Night Moves perform in The Current studio
Minneapolis band Night Moves' catchy combination of MGMT-like vocals, country strains, and electronic production have made them an up-and-coming local favorite. Featuring members of Mouthful of Bees, Food Pyramid, and Battle Royal, Night Moves have been named a "newish" band to keep an eye on by a few local publications. And it's true: though Night Moves have been playing around town for a while- most recently, they played at Howler's EP release show and organized a dance party for teenagers at the Walker Art Center -- they've managed to stay under the radar.
The band will be releasing their debut 7" on Domino Records featuring the tracks "Headlights" and "Horses."
Songs performed on The Local Show: "Country Queen," "Colored Emotions," and "Horses."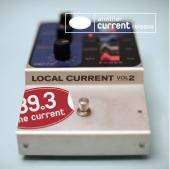 This performance is a part of Local Current Vol. 2, a compilation of local in-studios recorded at The Current in 2011.
Guests
Resources