Album Review: Gang Gang Dance - Eye Contact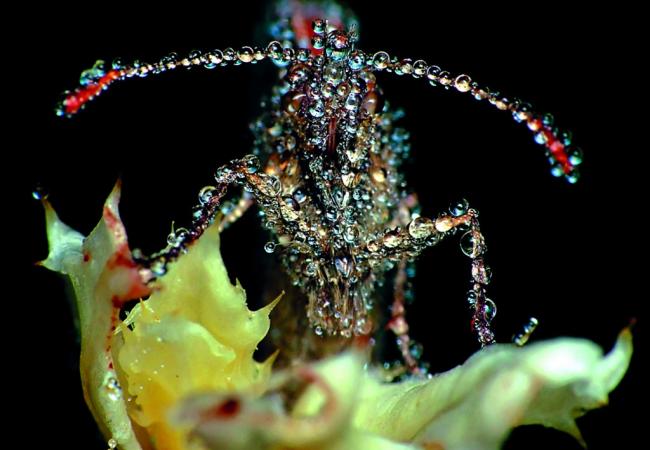 Much like fellow '00s hipster icons Animal Collective, the Manhattan quintet Gang Gang Dance have spent their career careening from an unkempt, noisy experimental rock style to a more coherent psychedelia- and dance music-influenced sound, losing none of their adventurousness along the way. A new generation of indie musicians has followed suit, crafting hazy inter-genre sounds and promoting them through outlets like Pitchfork's sister site Altered Zones. Yet while Animal Collective, for better or worse, increasingly appear to be the elder statesmen of this new indie sensibility, Gang Gang Dance have never quite been saddled with "important band" status. This has left them free to explore their whims and expand their minds, churning out restless and playful music along the way.
Gang Gang Dance's flurry of early releases didn't make much of a splash, but their second studio full-length, 2005's awesome God's Money, put them on the map as purveyors of a sort of crazed anti-music—an infectious amalgam of cacophonous synths, unhinged percussion, an endless arsenal of studio effects, and the freewheeling wailing, humming and chanting of vocalist Lizzie Bougatsos. 2008's follow-up Saint Dymphna found Gang Gang Dance aglow with a ferocious, schizophrenic energy. Their all-doors-open sonic approach was still intact, but infused with a new precision and clarity, plus a healthy dose of dance-pop influence.
Eye Contact, released May 10 on the veteran British indie label 4AD, is perhaps even dancier and poppier than Saint Dymphna, but it's also more unpredictable. The album's tracks range in length from roughly a minute to over 11 minutes, and many of them cruise back and forth between different segments, with rhythm, tempo and instrumentation morphing drastically at the drop of a hat.
It's the epic opener "Glass Jar" that best embodies Gang Gang Dance's current approach. Swaying ambient washes, electronic gurgles, and cymbals dominate the track's first several minutes, but before long the band launches into a spacious, driving synth-rock groove while Bougatsos, buried deep in the mix, belts out some Björk-esque vocals. The burbling electronics and processed guitar of "Chinese High" provide another album highlight. Single (and recent Current Song of the Day) "Mindkilla" boasts both rhythmic urgency and a catchy pop vibe, even as Bougatsos' singing and lyrics are as inscrutable as ever. The lovely, soaring "Sacer," meanwhile, is practically a ballad—or, at least, it's as close to one as Gang Gang Dance's skewed avant-pop is likely to get.
In a certain way, the specter of "world music" has long haunted Gang Gang Dance's sound. Not so much a genre as a (basically racist) marketing category engineered by major labels in the '80s and '90s, "world music" seemingly refers to all music made by people not living in predominantly white, first-world countries. As early as God's Money, Gang Gang Dance's music has subtly played on this idea, incorporating seemingly "exotic" sounds that are, in fact, placeless. For example, countless reviews of God's Money and Saint Dymphna remarked on the group's supposedly "tribal" percussion style, but you'd be hard-pressed to source their drum sound to a specific continent, let alone an actually existing "tribe." Rather, its origin is within the West's collective psyche, with its vague, anti-historical ideas of what non-Western musics might sound like.
In the 1980s, avant-garde Jazz trumpeter Jon Hassell coined the term "fourth world music" to refer to music that could hybridize different traditional musics from across the globe thanks to the advent of new sonic technologies. Gang Gang Dance take this idea a step further. In our present, digitally-powered cultural landscape, different forms of music from throughout the world are universally accessible to the Western listening audience, albeit in a way that is divorced from the music's context, its histories and traditions. Gang Gang Dance's "fifth world music" incorporates genres as disparate as the British grime and dubstep scenes, mainstream hip-hop, underground noise-rock and, yes, the corporate Frankenstein genre of "world music." For this band, these different sounds aren't just ripe for hybridization—they're inherently compatible with one another. As they effortlessly fold ideas from the rock, hip-hop, global traditional musics and electronic dance music into their sound, Gang Gang Dance forge a new type of "world music" where all of the world's music is potentially collapsible into a new hallucinatory Western pop. As a voice cryptically intones at the start of Eye Contact, "It's everything time."