David Bazan performs live in The Current studio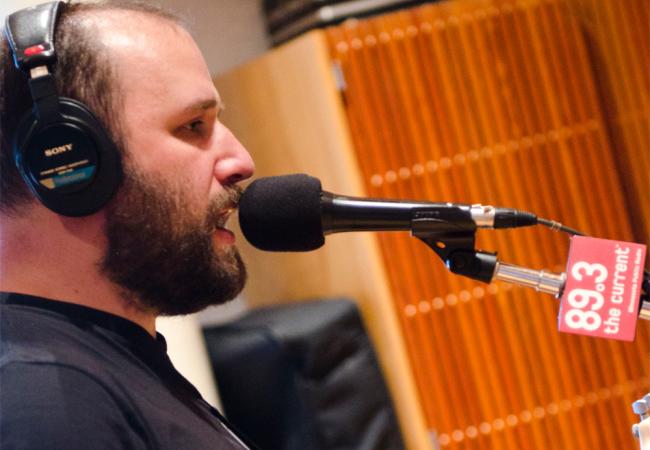 Experienced musician, David Bazan, who led Pedro the Lion and dabbled in side projects like The Headphones and Undertow Orchestra, began his solo career in 2009 when he released "Curse Your Branches," which touched on personal themes like faith and family. With his latest album "Strange Negotiations," Bazan has changed his songwriting focus from personal struggles to larger, societal struggles including themes of the current political and social climate.




The new album is stripped-down and riff heavy and was funded through pre-orders from fans, who got their names in the liner notes - all six pages of them - as executive produces. Bazan chatted with Steve Seel of the Morning Show.



Songs performed: "Eating Paper," "Virginia," and "Strange Negotiations."
Guests
Resources
Related Stories
David Bazan performs live in The Current studios After nearly 15 years as a band member and side-project collaborator, David Bazan has finally released his debut solo album, "Curse Your Branches", on Barsuk Records. Bazan began his songwriting career as a member of Pedro the Lion in 1995, and has since collaborated with Vic Chesnutt, Micah P. Hinson, and many others.
David Bazan performs in the Current studio The lead singer of Pedro the Lion is currently touring in support of his latest solo effort "Fewer Moving Parts." He talked about his other solo projects, touring with Vic Chestnut, and working while wearing pajamas.
Undertow Orchestra - Live in studio Undertow Orchestra is made up of four of today's most under the radar yet prolific singer-songwriters: David Bazan of Pedro The Lion and Headphones, Vic Chestnutt, Mark Eitzel of American Music Club, and Will Johnson of Centro-matic. Johnson's Centro-matic band mate Scott Danbom joined the Orchestra on piano and violin.
5 Photos
David Bazan

(Nate Ryan

)

David Bazan

(Nate Ryan

)

David Bazan

(Nate Ryan

)

David Bazan

(Nate Ryan

)

David Bazan

(Photo courtesy of the artist

)
View 4 more photos