Album Review: Bon Iver - Bon Iver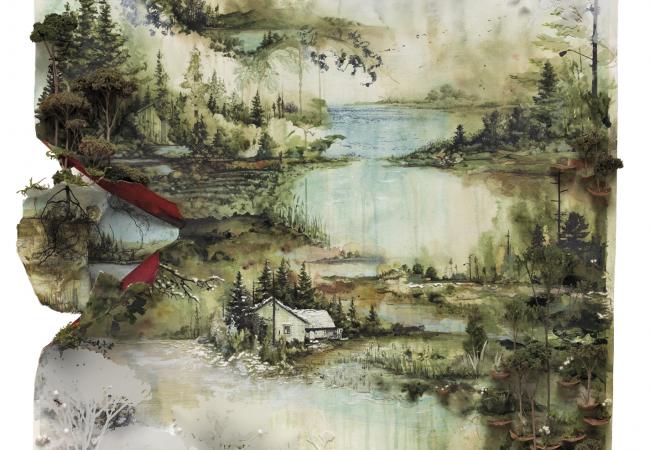 It was just four short years ago, when one of the 500 copies of the original pressing of For Emma, Forever Ago was hand delivered to The Current by a local blogger and friend of the station that declared this was the absolute last copy he could get his hands on. The hand-folded, no-glue digipack was designed to look like a post card. The track listing on the back as the message and with simple, black artwork on the front with two words above it — Bon Iver.
Since then, the subtle and unassuming music of Bon Iver has moved from a cabin in the northern Wisconsin woods to prominence on a national scale. Justin Vernon, the man behind the moniker, has found his music on the popular Twilight soundtrack, had his song "Flume" covered by Peter Gabriel, and worked with Kanye West on his album, My Beautiful Dark Twisted Fantasy.
For Emma... was a cathartic album that drew inspiration from the end of relationships — romantic, musical, geographical. In contrast, the follow-up Bon Iver is written from a different place. This time Vernon had to go find the content for the new record — ten songs written over the course of three years. This time around, the themes are more general. Many of the song titles reference places like "Perth" and "Calgary."
Compared to the minimal composition on For Emma..., the follow-up is more expansive and even experimental. The lead track on the album, "Perth," has a lush sound with multipart harmonies, prominent drums and horns. Yet the new album still maintains the simplicity of the debut, which is especially heard on "Holocene" with the pairing of Vernon's trademark falsetto and reverb-heavy guitar.
One thing Vernon does particularly well, is that he maintains his signature sound, while still exploring and growing. He doesn't abandon what worked on his first album; but he doesn't just recreate it either. While Bon Iver is playing large festivals and sharing the stage with well-known names, the feel of Bon Iver is that you're still in that cabin. Still in the north woods. But with more clarity this time.