Album Review: Shabazz Palaces - Black Up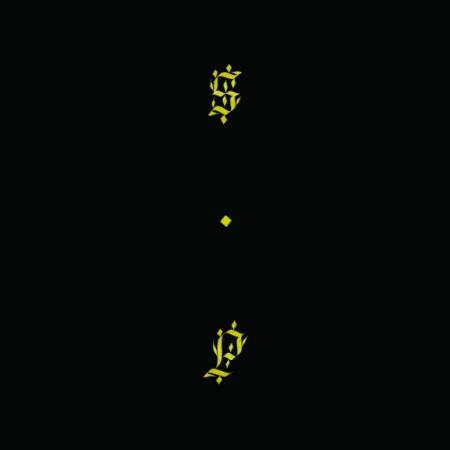 Hailing from Seattle, Shabazz Palaces is the new hip-hop project from former Digable Planets member Ishmael "Butterfly" Butler. Listeners expecting the laid-back jazz-rap of that group's best-known hit, "Rebirth of Slick (Cool Like Dat)," though, will probably be taken aback. Indeed, even the blunted, densely collaged beats of their under-appreciated 1994 sophomore LP Blowout Comb sound practically ancient alongside Shabazz Palaces' dark, warped beats.
Black Up, out June 28 on Sub Pop, is Shabazz Palaces' debut following their quietly buzzed-about EPs, Shabazz Palaces and Of Night from 2009. The album showcases a sound that is decidedly hip-hop in its basic form — consisting mostly of Butler rhyming over rhythmic, electronically assembled beats — but wildly experimental in nearly every other aspect. The songs frequently toggle between jarringly different segments and sections, and the beats are lo-fi, off-kilter, and heavy on grimy textures influenced by various strains of contemporary electronic music. Butler stretches and disrupts his flow to accommodate this rhythmic madness, crafting a rapping style just as unhinged as the music behind it. On tracks like the brief "The King's New Clothes Were Made by His Own Hands," Butler's rapping and the backing track almost seem to be moving at different speeds, or even in opposite directions.
Indeed, Butler's deft lyricism is often overshadowed by the staggering strangeness of the album's overall sound. "A Treatease Dedicated to The Avian Airess from North East Nubis (1000 Questions, 1 Answer)" sports a mechanical ambient soundscape that's not a million miles from '70s Kraftwerk, or the hazier, druggier end of present-day lo-fi American indie, but also hints at the stereo experiments of dub reggae. Most surprisingly, Butler's vocals towards the end of the song are placed very low in the mix by hip-hop standards, sounding distant through the heavy electronic fog.
The brutally heavy beats that reverberate throughout "Youlogy" and opening track "Free Press and Curl" clearly owe their pulverizing texture to the more hardcore side of the dubstep scene. Meanwhile, the dusty, jazzy sax loop that percolates throughout "Endeavors for Never (The Last Time We Spoke You Said You Were Not Here. I Saw You Though.)" hints at Butler's Digable past, but soon fractures into an eerie, heavily fractured groove.
Similarly, "Recollections of the Wraith" sports a chorus whose lovely, lackadaisical funk groove backs some lovely wordless crooning from singer Cat Satisfaction of the Seattle duo THEESatisfaction. However, each time the chorus fades, her vocals are timestretched into an eerie moan. "Clear this place out/ so we can space out," raps Butler, and the song obeys, its beat crumbling to a lo-fi, minimal thump.
Shabazz Palaces' approach is hardly unprecedented on the underground hip-hop scene — indeed, Black Up's dark, grimy electronic sound in many ways echoes the style served up on late '90s/early '00s underground classics like Company Flow's Funcrusher Plus and Cannibal Ox's The Cold Vein. However, at a time when hip-hop — underground, mainstream, and everything in between — has splintered into micro-scenes and fast-fading trends, such a stark and uncompromising stylistic vision is deeply refreshing. The dark, disjointed rap psychedelia of Black Up is sure to make it one of this year's most singular and potent musical statements, and Butler's lyricism has only grown sharper since his Digable Planets days. If you have any interest in left-field hip-hop, don't miss this one.