Album Review: Various Artists - Rave On Buddy Holly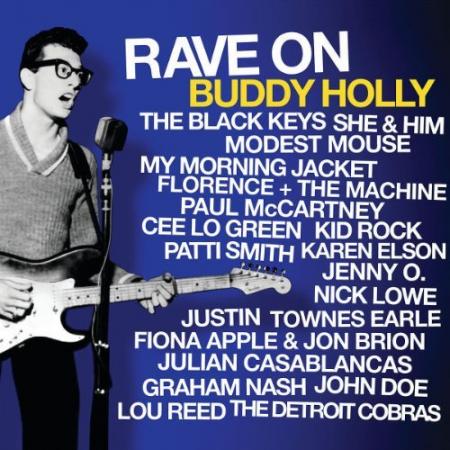 Rave On Buddy Holly is this week's CD Of The Week. It is a collection of songs made famous by Buddy Holly which is being released just in time for what would have been his 75th birthday. In the liner notes, Randall Poster tells us that they contacted the 19 artists/bands that they wanted to take part in the recording of the project and then watched in wonder as each went through Buddy Holly's catalog choosing their perfect song.
From the up-and-coming Jenny O to a Beatle, the A-list of musicians collected is astounding! You've already heard us playing a handful of the tracks on air, including The Black Keys performing "Dearest"; "Not Fade Away" from Florence and The Machine; Cee Lo Green's take on "(You're So Square) Baby, I Don't Care" and Fiona Apple and Jon Brion teaming up for "Everyday." Those tunes are all very strong and let's face it, who wasn't a little excited just to hear Fiona's voice again? But with all of these tracks, we're still just skimming the surface of the goodness of this compilation.
I stuck this CD in my player and tried NOT to pay attention to who was singing each song; to just let it flow and avoid the temptation to hit pause and dig around to find and listen to the corresponding original to see how each artist had changed things up. This is where I found myself surprised. As I listened to "It's So Easy" I thought I must surely be listening to Jon Spencer or Boss Hog because of the "growl" in the singer's voice. Nope, that over-the-top growl belongs to Sir Paul McCartney! Later, I found myself bobbing my head to "Well All Right." I can honestly say that I have NEVER in my life enjoyed the work of Mr. Rock or "Kid" or whatever he goes by, but here I was, bopping along to him!
Modest Mouse's dry interpretation of "That'll Be The Day" almost makes it seem like Isaac Brock wrote the song himself. Strokes frontman Julian Casablancas delivers a rockin' take on "Rave On" and Supermodel Karen Elson reminds us she's not just another pretty face with the lovely, layered harmonies on "Crying, Waiting, Hoping."
Patti Smith's version of "Words Of Love" is both spooky and beautiful. Lou Reed's distortion-heavy "Peggy Sue" sounds like it was a forgotten Velvet Underground classic and She and Him delivered a sugar-coated pop gem with "Oh Boy!"
This amazing collection of songs really highlights the musical legacy of an artist who was taken from us much too young. Buddy Holly was in his early 20s when he died. Can you even imagine what his catalog would have looked like if he was with us to celebrate his 75th birthday? The release of Rave On Buddy Holly is a grand way to celebrate this occasion.