Dead Man Winter performs in The Current studio
When Dave Simonett, Ryan Young and Tim Saxhaug are not playing at break neck speeds in Trampled by Turtles they can be found with electric instruments in tow performing as Dead Man Winter. Joined by country blues guitarist Erik Koskinen, and drummer Noah Levy, Dead Man Winter takes the tempo down a few notches from Trampled by Turtles and adds a bit of country charm. Sharing members and songs, Dead Man Winter can be heard live performing Trampled by Turtles favorites. Creating new arrangements and fitting well known songs into the Dead Man Winter format has been one of the most exciting elements for members of the band. Dead Man Winter's first full length album "Bright Lights" was recorded at Erik Koskinen's studio and will be released on August 16th.
Songs Performed: "Wasteland," "A Long Cold Night in Mineapolis," and "Nicotine."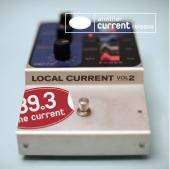 This performance is a part of Local Current Vol. 2, a compilation of local in-studios recorded at The Current in 2011.
Guests
Resources