Villa Rosa performs in The Current studio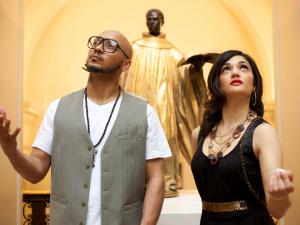 Villa Rosa is the recent collaboration of longtime friends Maria Isa and Muja Messiah. Maria Isa, the local Latin MC, singer, and actress had lent her vocals to Muja Messiah's 2008 Adventures of BBoy DBoy, and 2010 M-16's releases. From the beginning of their collaborations their musical chemistry was in place and lead them to expand into a full band earlier this year.
Villa Rosa's debut release Blue Diamond Island will be released on Black Corners this month.
Songs performed: "Leader of The Pack," "Blindfolded" and "Watch Out."
Guests
Resources