Album Review: Girls - Father, Son, Holy Ghost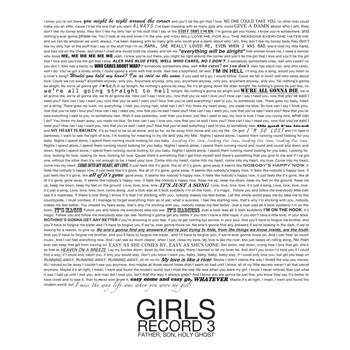 Girls' sophomore album—following the breakout indie success of their debut, er, Album—finds lead singer Chris Owens dialing down his eccentricities and the band largely reining in their lovably sloppy garage-rock tendencies for a more polished sound. If this makes Father, Son, Holy Ghost sound a little pedestrian, fear not: while the band may have softened some of their rougher edges, they've also put in a lot of work honing their songcraft and soundcraft.
Owens' voice is the most noticeably changed element. Gone is his nasal whine, and with it the grit and sassiness that made Album's myriad exclamations and non-sequiturs instantly compelling. It's replaced by a deeper, fuller tone that actually proves much stronger for carrying melodies and conveying emotion. The band is slicker, too, its haphazard evocations of rock's past coming off less fractured than before.
Case in point: the excellent opening track "Honey Bunny," on which Owen debuts his new vocal chops with seemingly heartfelt lines like "They don't like my bony body / they don't like my dirty hair / or the stuff that I say / or the stuff that I'm on," before a surf-rock guitar run leads to a sort of wink-at-the-listener moment: Owens putting on his best '50s rocker impression for the line, "I'm gonna get you honey!" It's this album's counterpart to the band's breakout single "Lust for Life," and it's nearly as good at that track, while sounding entirely cleaner and less disheveled (no matter how dirty Owens' hair might be).
"Alex" is a beautiful track that evokes Figure 8-era Elliott Smith with its melodically rich take on chugging indie-rock. "My Ma" is a similarly lush slow-burner with one of Owens' best vocal performances to date. "Saying I Love You" sports a supremely catchy folk-rock shuffle and a lyrical restraint that makes it one of the album's finest moments.
Yet much of the album is bogged down by long, slow tracks that follow the formula of Girls' much-beloved 2009 song "Hellhole Ratrace." The six-minute-plus album centerpiece "Vomit" garnered a fair bit of online attention when it leaked earlier this summer, but its heavy-handed tone and maudlin climaxes are hard to stomach (no pun intended). Similarly stretched-out affairs like "Just a Song" and "Forgiveness" don't fare much better, bringing the momentum built on the first half of Father, Son, Holy Ghost grinding to a halt. Still, album closer "Jamie Marie" wraps the LP up nicely with lovely, yearning lyrics and gentle guitar picking.
The best songs on Father, Son, Holy Ghost hit all the right notes, perfectly balancing and taming the chaotic and emotionally fraught brattiness that made Album stand out. Elsewhere, though—such as when the band busts out string arrangements on a few tracks—you can hear their improved musicianship straying into bloated, overambitious territory. It's enough to make you wonder if, by upping their technical ability and compositional acumen, Girls actually took the easier way out with Father, Son, Holy Ghost. While it's hard to argue with songs as clever, attention-grabbing and downright lovely as "My Ma" and "Honey Bunny," Girls' debut displayed an amateurish eccentricity that Owens and company should take care to not leave by the wayside, something they seem dangerously close to doing on this album.