Album Review: Ben Folds and Nick Hornby - Lonely Avenue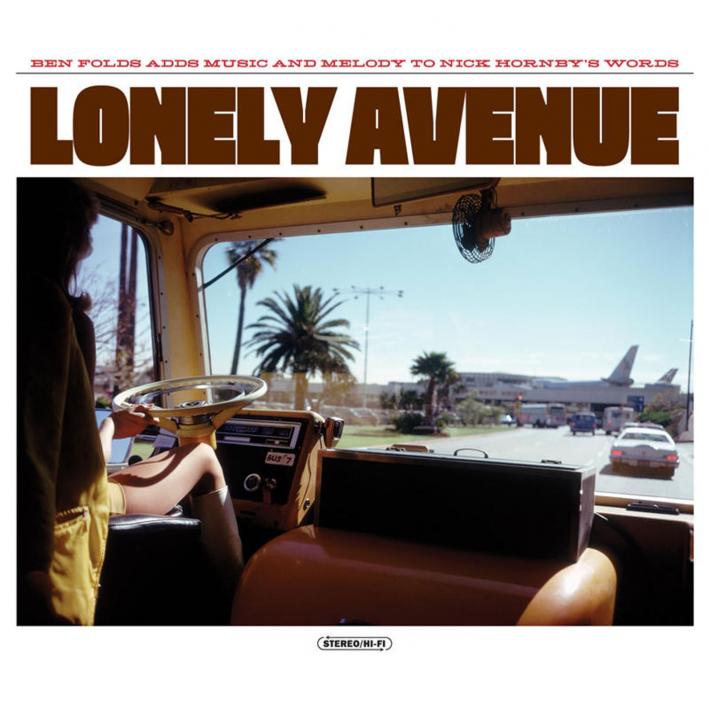 This is one of the most visual recordings I've ever had the pleasure of listening to. Full disclosure — when I heard about this project for the first time I was very excited... but I was excited more about Nick Hornby than Ben Folds! I'm definitely a fan of Mr. Hornby's writing, and while I enjoyed the music of Ben Folds Five and the Fear Of Pop record, it's been almost a decade since I've purchased any of Ben Folds' solo material.
The first thing you'll notice about this collective effort is the packaging and the back and forth notes between Hornby and Folds, teasing the material of the final track, "Belinda." This almost made me want to listen to that song first, but that just wouldn't be right. It would be like reading the final page of a book to make sure there's a happy ending awaiting you. Don't get me wrong — there is a happy ending, but you have to wait for it and weather through some pain and darkness first.
Inside the CD, you'll find full lyrics along with a synopsis of each song, as well. Again, I didn't want to run through the "Cliff's Notes" version of this story before experiencing it. I encourage you to do the same. Journey through the self-deprecation, pain and imagery once without a map.
The disk starts off with "A Working Day." Anyone who creates for a living is fair game for someone who thinks that they can do what you do. Of course, not only could they do it better, but they can go onto their blog and tell the whole world about it! It's like this song was written for you, as "Some guy on the net thinks I suck, and he should know, he's got his own blog" is a powerful earworm!
We then take a painful, vivid look outside the window of a hospital room in London on New Year's Eve in "Picture Window." Through the pain and bitterness we're reminded that there is always hope.
Like me, you might find yourself feeling sorry for Bristol Palin's baby-daddy in "Levi Johnston's Blues." The liner notes say that the chorus is based on comments Levi made on his now defunct Facebook page. And you'll remember a few months ago he was just a teenager doing the things that teenagers do... Okay, maybe not all teenagers are going to go out and "kill some moose."
As we listen to "Doc Pomus," we might wonder if we're learning the secret to Doc Pomus' '50s and '60s hits. Was he people-watching while writing songs about the comings and goings of the clientele of a hotel when he wrote "This Magic Moment" or "Viva Las Vegas"?
You may have heard snippets of "Your Dogs" recently featured on William Shatner's latest TV series. It's as much about those people in your neighborhood that have the annoying, badly behaved dogs as it is about social acceptance through pushing your own values on someone else.
"Practical Amanda" contains a sweet message about the woman who holds a family together by taking care of the details that no one else can be bothered to attend to.
I am not a child of divorce, but as I listened to "Claire's Ninth," I could see and feel the nine year old girl suffering through an uncomfortable situation with her parents on her birthday. In Hornby's notes, he tells that this was the title of the first story he was paid to write, but before it was published, the magazine that bought it went out of business.
The first time I listened to "Password," I thought it was about a guy hacking into a girl's computer and developing an imaginary relationship with her thinking "I know everything about you, now." But after a couple of listens, I finally grasped the reality... This is about a suspicious guy who hacks into his girl's account only to find out that his suspicions were warranted, and he was really saying "It's because I know you, that I was able to discover what I was regretting. And now I don't know you at all."
By now we've all heard "From Above," a song about not realizing that the person we claim as our "soul mate" may not be. Maybe that one perfect person was someone we only met briefly along the way.
By the time "Saskia Hamilton" started playing, I realized that I was enjoying Ben Folds' voice and music just as much as the stories that he was telling. I swear Ben Folds is channeling the howl of someone else... Jack White? Brendan Benson? This could easily pass for a Raconteurs tune!
And alas, we've reached "Belinda." You can easily imagine that this song was written by Ben Folds because it tells the story of a rock star that wrote a song about his ex while they were still together and it became a hit. Years later, he and she are no longer together, but his audience still wants to hear the hit that he wrote for her. And he understands that people love the song and they want to hear the song when he performs live. He comes to grips with that, and he copes by imagining that each time he sings the chorus, he's actually sending out an apology for his infidelity and for breaking her heart. I couldn't help but wonder "Could this be 'Kate'?" This is where the happy ending comes in, as promised. No, there's no reconciliation, rainbows or unicorns. But there is a hidden track about a minute after the "Belinda" fades. It's a Beatle-esque little rocker that delves a little further into "Belinda."
I should mention that the this CD could/would/should feature an explicit language sticker. While much of the music is very poppy, I don't think you'd want to explain to the principal why your kid is singing the lyrics to "Levi Johnston's Blues."
Thank you Nick Hornby... for re-introducing me to Ben Folds!