Slideshow: Wild Flag In-Studio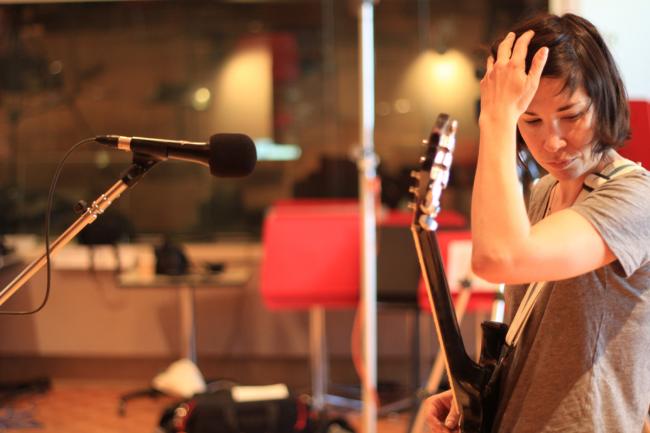 Wild Flag stopped by the Current Studios to chat with Bill DeVille and play a few songs: "Short Version," "Electric Band," and "Future Crimes."
Related Stories
Wild Flag perform live in The Current studio Althought they don't consider themselves such, they are a "supergroup" of sorts. Wild Flag, featuring ex-members of Sleater-Kinney, Helium and The Minders officially formed in 2010 after Carrie Brownstein (Sleater-Kinney) announced it on the NPR All Songs Considered blog. The all-female rock band based in Portland, Oregon and Washington D.C., released their debut "Glass Tambourines" on Record Store Day.
8 Photos
Rebecca Cole (ex-the Minders) on keyboard

(MPR Photo/ Lauren Knapp

)

Wild Flag Bassist Mary Timony

(MPR Photo/ Lauren Knapp

)

Wild Flag Drummer Janet Weiss

(MPR Photo/ Lauren Knapp

)

Mary Timony

(MPR Photo/ Lauren Knapp

)

Carrie Brownstein's pedals

(Laur

)

Keyboardist Rebecca Cole

(MPR Photo/ Lauren Knapp

)

Carrie Brownstein

(MPR Photo/ Lauren Knapp

)

Mary Timony

(MPR Photo/ Lauren Knapp

)
View 7 more photos