Album Review: Ryan Adams - Ashes and Fire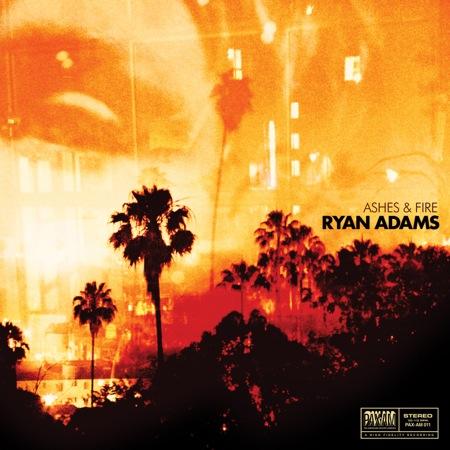 If there is a spectrum of alt-country, Ryan Adams has created music from each end and everywhere in between. From his band Whiskeytown from the '90s to The Cardinals to his solo work since, he's ranged from twangy to crooner to poppy to punk, but he's always maintained one foot in alt-country.
You never quite know what direction he'll take with each new record, so upon first listen, I was pleased to hear that he went for the mellowed-out, melodic sound similar to his Cold Roses album that he did with The Cardinals in 2005. Maybe it's the pendulum swing of albums or maybe it's the fact that he settled down and got married (to actress and singer Mandy Moore). The last track of the album "I Love You But I Don't Know What To Say" points to that. Adams sings "I was lost / I tried to find the balance / I got caught up in the cost / I let it go / When I met you / Clouds inside me parted / And all that light came shining through." That's pretty gushy, (and borderline cheesy) but the vulnerable honesty comes from a man that is clearly head-over-heels in love.
He has many quiet, sensitive moments. The third track on the album "Come Home" has is a somber tone and sounds more like Damien Rice with a steel guitar. But he also expresses his soulful side. Norah Jones guests on "Chains of Love," a soaring mix of strings and piano. You also hear it on the twangier title-track "Ashes and Fire."
The stand-out song on this album is the fifth track, "Do I Wait." Minimal, yet striking, I found instant affinity with this song as it seems evident that he's found his strength in songwriting.
It's always interesting to listen to the growth and progression of an artist. This album feels like Ryan Adams has matured.