Assembly workers at Ford plant get shutdown notice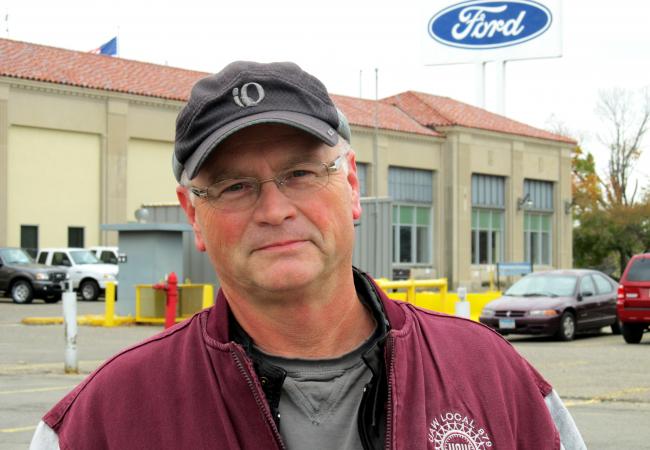 Workers at the Ford Assembly Plant in St. Paul received news this week, but it was something they'd been expecting for more than five years: the Twin Cities plant will close for good by Dec. 19. A few dozen employees may transfer to Ford plants in other states, but hundreds of workers are left to figure out what they will do.
Shawn Milliron has spent nearly half his life at the Twin Cities assembly plant. In the early 1990s he installed seats in Ford Ranger pickups. More recently, as a committeeman for United Auto Workers Local 879, he helped fight to keep the 86-year-old factory open as long as possible. But Milliron has another reason to take the closure personally.
"My mom and dad met here. My mom worked in the office. She taught computer classes to management back when computers were the size of a bedroom. And my dad retired from here after 30 years in 1990," Milliron said. "I wouldn't be alive if it weren't for Ford, I guess, because my mom and dad wouldn't have met."
Milliron plans to move to Kentucky for a similar position with the UAW at a Ford plant. But two months from now, just before Christmas, around 800 hourly employees will walk out of the plant for the last time.
Among them will be line worker Michelle Fisher.
"It's a drag. I feel bad for the area. Everybody's going to suffer. And I kind of like my job," Fisher said. "Now it's pick up and figure out something else."
Fisher is hoping to transfer to another Ford plant, but those opportunities are rare. The union said only a few dozen Twin Cities workers are eligible. Many at the plant say if there's a saving grace, it's that the factory didn't shut down all at once.
In early 2006, when Ford first put the Twin Cities Assembly Plant on its closure list, the facility was slated to close within two years. The company ruled out modernizing the plant, which it said would cost $500 million. It was at that point — in 2007 — when the UAW said about 300 workers who'd taken a buyout from Ford came back to the St. Paul plant as temps. With Ranger production slated to continue, Ford pushed the shutdown to 2009, before yet another reprieve.
One of those workers who returned temporarily was Herb Lynch, who installs tires on the Ranger assembly line. As he left work Tuesday afternoon, Lynch said at age 58, he's not ready to retire and remains optimistic about other job prospects.
"I've done other things, so I have some options for what I can do. I've been in retail before and I've run my own business," Lynch said. "I'm no stranger to having to work, so whatever comes my way I'll take a look at it and decide what I need to do."
With their futures uncertain, more than half the 1,900 people who worked at the plant when the closure plans were first made public have long since moved on.
"Much of the hit that would occur with the Ford plant shutdown has already occurred," said
Steve Hine, a labor analyst at the Minnesota Department of Economic Development. He said the shutdown played out over several years, avoiding a major shock to the regional economy.
"Not to trivialize this, but 700 to 800 is almost a rounding error in our monthly changes in employment statewide, from one month to the next."
However, Hine said the closure is not insignificant for the people who are losing well-paying jobs on the assembly line.
Union officials said despite the plant closing, UAW Local 879 will remain active to help former Ford workers search for jobs. The official closure date is Dec. 19, but the union said the last Ranger pickup will probably roll off the line a bit before then.
After the plant shuts down, a skeleton crew will remain for a month or two to disassemble equipment and lock the doors before the property goes up for sale.
3 Photos
Ford first put the St. Paul assembly plant on its closure list in 2006. The facility was supposed to close within two years, but was kept open to continue manufacture of the Ford Ranger.

(MPR Photo/Matt Sepic

)

Ford first put the St. Paul assembly plant on its closure list in 2006. The facility was supposed to close within two years, but with Ranger production slated to continue, Ford pushed the shutdown to 2009, before yet another reprieve.

(MPR Photo/Matt Sepic

)

A sign on the marquee at the United Auto Workers Local 879 hall asks for support for the workers. The UAW hall is located just across the street from the Ford Assembly Plant in St. Paul, Minn.

(MPR Photo/Matt Sepic

)
View 2 more photos