Doomtree Performs Live in the UBS Forum
Doomtree's members have all been featured in the spotlight for their solo projects, but it has become a rare sight to see the collective perform together in recent years. So when their newest album No Kings was announced, people in the Twin Cities were understandably buzzing about the idea of more group collaboration in a live setting.
They stopped by the UBS Forum to kick off the release, on the heels of major nationwide recognition. Mashing together their individual fortes and genre-crossing, Doomtree has solidified their reputation for hard-hitting and smart lyrics and beats.
You can check out some additional content with our slideshow of the performance as well as a video of Mark Wheat interviewing the collective.
Songs performed: "The Grand Experiment," "Beacon," "Little Mercy," "Bolt Cutter," and "Bangarang."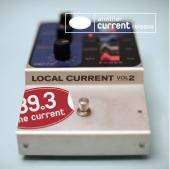 This performance is a part of Local Current Vol. 2, a compilation of local in-studios recorded at The Current in 2011.
Guests
Resources
Related Stories
Slideshow: Doomtree live in the UBS Forum The entire Doomtree gang performed live in the UBS Forum on December 1, debuting much of their new album "No Kings."
Doomtree Performs Live in The Current studio The local hip-hop collective and record label Doomtree have been combining beats and MCs for the last five years. In addition to the collaborative EPs, several members including P.O.S., Dessa, Sims, and Cecil Otter have released solo albums.
Doomtree Performs Live in The Current Studio Doomtree is a record label. Doomtree is a rap crew. Doomtree is a family. Over the past five years, Doomtree has become one of the most highly regarded hip-hop collectives in the Midwest, thanks to their innovative recordings, explosive live shows, and tireless work ethic.
More Video