Diego Garcia performs live in The Current studio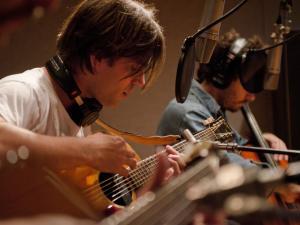 It has only been a year since New York band Elefant parted ways, and former frontman Diego Garcia has wasted no time in launching himself back into recording music. This time, his focus is on a new solo project and debut album called Laura.
The inspiration behind the work consists of songs attempting to woo his current wife. It's easy to hear and see why that method worked for her. Crooning vocals, Argentinean influences, and sparkling guitar combine to create a much different direction than the previous post-punk vibes of Elefant.
Songs performed: "You Were Never There," "Nothing To Hide," "Roses and Wine," and "This Strange Effect."
Guests
8 Photos
Zeke Zima performs with Diego Garcia on Spanish guitar in The Current studio.

(MPR / Nate Ryan

)

Diego Garcia performs live in The Current studio.

(MPR / Nate Ryan

)

Daniel Benson on cello performs with Diego Garcia in The Current studio.

(MPR / Nate Ryan

)

Daniel Benson on cello performs with Diego Garcia in The Current studio.

(MPR / Nate Ryan

)

Zeke Zima on Spanish guitar performs with Diego Garcia in The Current studio.

(MPR / Nate Ryan

)

Diego Garcia performs live in The Current studio.

(MPR / Nate Ryan

)

Diego Garcia performs live in The Current studio.

(MPR / Nate Ryan

)

Diego Garcia performs live in The Current studio.

(MPR / Nate Ryan

)
View 7 more photos