Perfume Genius performs in The Current studios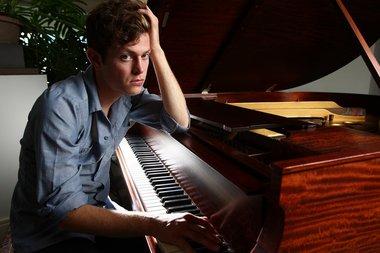 Mike Hadreas has been looking for the right way to explore his life experiences. Based on the extremely personal nature and simultaneously heart-breaking and inspiring anecdotes that he has collected, it seemed only natural to create a new identity to bring these stories to fruition. Perfume Genius was born in 2008 and Hadreas quickly drew acclaim for his sparse and touching compositions and affecting stories.
His debut Learning was a lo-fi collection that dealt with themes of abuse, drug-use and depression. After signing to Matador, follow-up album Put Your Back N 2 It doesn't stray far thematically. However, Hadreas has added a band to help bring his ideas to their most fully-realized form, and the result has been deemed one of the best records of the year. For Perfume Genius, it's not a matter of accolades — instead, it's talking about the past which helps create a brighter future. For this band, the future is indeed one to watch closely.
Songs performed: "Hood," "Dark Parts," and "Katie"
David Safar hosts New Hot, Mondays at 10 p.m.
Listen
Guests
Resources