Cults performs in The Current studios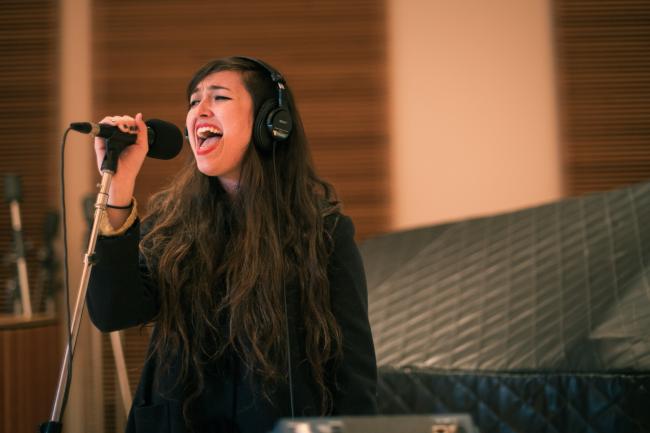 The backstory of Manhattan band Cults is second-nature by now: originally a duo, Brian Oblivion and Madeline Follin released a three-song EP on Bandcamp in 2010 that gradually gathered accolades over the next year. It eventually nabbed them a spot on famed major label Columbia Records, proof that no matter how small you start off, your impact can still be huge.
They released their self-titled debut to general acclaim last year and supported it was a string of sold-out dates. Fans have become ravenous over their take on '60s-inspired bubblegum pop mixed with tinges of dark flavor, and it's not uncommon to see crowds singing along to every song — the tunes have a level of appeal that many haven't seen in years.
Songs performed: "Rave On," "The Curse," and "You Know What I Mean"
Video
Cults - "Go Outside" (Live on 89.3 The Current)
Cults - "Abducted" (Live on 89.3 The Current)
Guests
Resources
Related Stories
Cults performs in The Current studios Cults can owe much of their success to the internet. Two and a half years ago, the duo of Brian Oblivion and Madeline Follin met at a rock show in San Diego, began dating, and a week later decided to move to New York. They began playing music together and posted songs on BandCamp, and it wasn't long until they were garnering attention from record labels and new fans.
7 Photos
Cults performs in The Current studios

(MPR Photo / Nate Ryan

)

Cults performs in The Current studios

(MPR Photo / Nate Ryan

)

Brian Oblivion of Cults

(MPR Photo / Nate Ryan

)

Brian Oblivion of Cults performs in The Current studios

(MPR Photo / Nate Ryan

)

Brian Oblivion of Cults performs in The Current studios

(MPR Photo / Nate Ryan

)

Cults performs in The Current studios

(MPR Photo / Nate Ryan

)

Cults performs in The Current studios

(MPR Photo / Nate Ryan

)
View 6 more photos