Tim Eriksen on Radio Heartland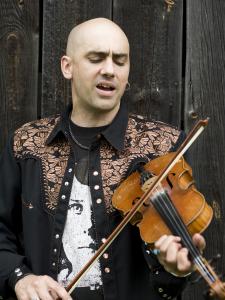 You could say that Tim Eriksen is a walking encyclopedia of folk music, but that would not explain his love of punk rock.
Tim is singer, songwriter, historian and educator. He has a deep appreciation for new and old music. His specialty is dusting off old 19th Century hymns, folk tunes, murder ballads, and encorporating them into his own musical personna.
Besides regularly performing and teaching, Tim served as a music consultant for the movie, "Cold Mountain".
His latest album, "Banjo, Fiddle and Voic" is a collection of songs that he recorded pretty much by accident using his grandfather's fiddle, a couple of banjos and his own earthy, haunting voice.
Tim performed live in the studio on Radio Heartland.

This in-studio feature aired on
Radio Heartland
April 26, 2012.
Guests
Resources