School of Seven Bells perform live in The Current's studio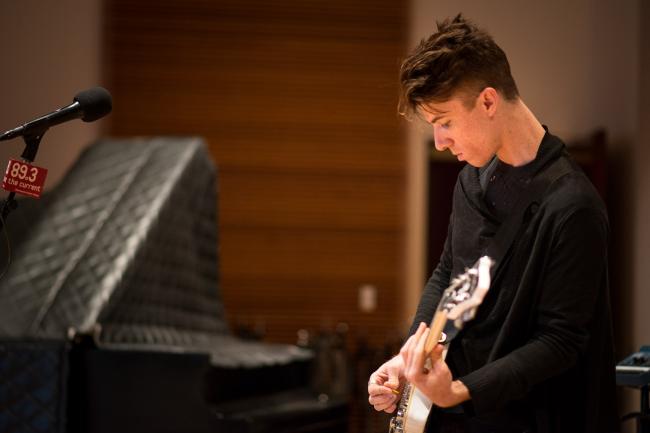 Born out of two bands — The Secret Machines and On!Air!Library! — New York City's synth-dreampop act School of Seven Bells have been together for six years, but have grown with their line up changes. Originally, the project consisted of identical twin sisters Alejandra (On!Air!Library!) and Claudia Deheza and guitarist Benjamin Curtis (Secret Machines). However, Claudia left the band in 2010 before the latest record Ghostory.
Songs performed "Lafaye," "Scavenger," and "The Night."
Guests
Resources
Related Stories
School Of Seven Bells perform in The Current studio While Benjamin Curtis' band Secret Machines and twin sisters Alejandra and Claudia Deheza's band On-Air Library! were touring together in 2004, they decided to connect on a music project. By the end of 2006, Curtis and the Deheza sisters had completely disappeared into the band School of Seven Bells.
3 Photos
Alejandra Deheza of School of Seven Bells.

(MPR / Nate Ryan

)

Members of School of Seven Bells perform in The Current studio.

(MPR / Nate Ryan

)

School of Seven Bells perform in The Current studio.

(MPR / Nate Ryan

)
View 2 more photos