Album Review: JD McPherson - Signs and Signifiers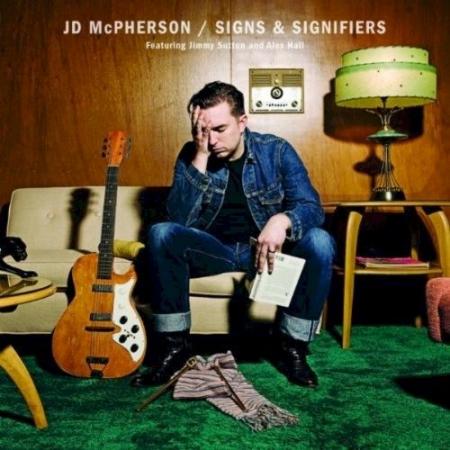 Every ten or fifteen years, someone comes along to make us realize how primal, urgent, and elemental the big bang explosion that kicked off rock and roll was in the 1950s, when 'hillbilly' country and 'race' rhythm'n'blues music collided in places like Memphis and New Orleans and behind artists like Elvis Presley and Little Richard.  With three chord shuffles and lyrics about "Be-Bop-A-Lula" and "Tutti Frutti," it's easy to see why major label executives like Mitch Miller dismissed rock as a teen fad that wouldn't last.  But 50 years later few would prefer Uncle Mitch or Pat Boone's watered down versions to the real thing - the rocket sauce wasn't what the songs said, it was the way it was said; the performers were alive and all in, often a little unhinged and going for it.  In the repressed and conforming '50s, it was the sound of freedom.
In 2012, the artist that is reminding us of what made that music great is JD McPherson.  A former school teacher and punk rocker from Oklahoma, McPherson found his voice when he abandoned punk for the sound of 1958, recording Signs and Signifiers in glorious analog.  "I have recorded this style of music in the digital realm, and it just doesn't quite "sing" as much. Slamming that quarter-inch tape really hard produced the most beautiful distortion I've ever heard," says McPherson.
McPherson seems more tuned into the wild R&B vocal styles than any of the previous generations of early rock revivalists, which he alludes to when he says, "there seems to be a line most artists won't cross — that line into the world of the swinging, visceral abandon of real rock 'n' roll."  As an example, if you listen to a song like "Scratching Circles." It's structured along the lines of the classic "Train Kept A-Rolling," but rather than take inspiration from the Aerosmith, Yardbirds or even Johnny Burnette's version of the song, McPherson sounds like the original R&B swinger Tiny Bradshaw.  That's the kind of touch the separates McPherson from the pack — he's been able to tap into a version of this elemental music in a way that we've either never heard or not heard in a long time.
 
And while totally locked into a bygone era, there's something timeless about this music too.  A couple months ago during Record Store Day, my favorite purchase among all the special new releases was a re-issue of Little Richard's debut.  What it lacks in the sophistication and the clever good taste of recent indie rock from Radiohead to Grizzly Bear, it more than makes up for with the wallop and simple joy of rock and roll.  JD's album stakes out similar terrain and reminds us that summer's here, the time is right for dancing in the streets, and for rolling down your windows to crank up a record like Signs & Signifiers.
Related Stories