Policy and a Pint: Generation Debt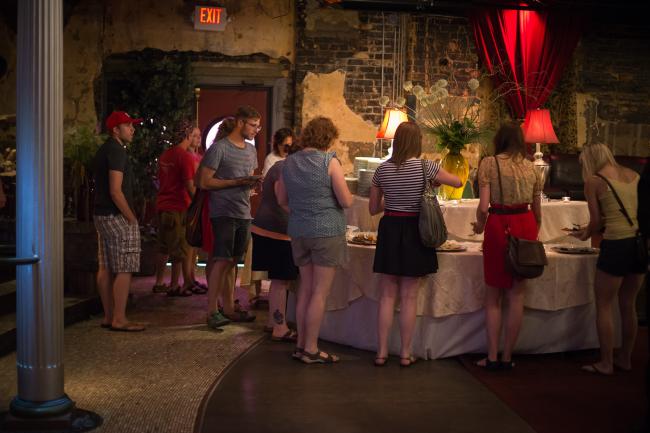 Student loan debt in the United States exceeds one trillion dollars; that's more than the total amount of credit card debt owed by all Americans. If you're like many college grads today — still struggling to get ahead — you might be wondering: what exactly did all that money I borrowed really get me? Was going to college... actually worth it?
Student loans — specifically, their necessity in today's crazy-expensive college world, and the burden they've created for the current generation — are the topic for our most recent Policy and a Pint, co-presented by 89.3 The Current and The Citizens League. Host Steve Seel and an array of special guests explored how things got so bad, and what we might do about it. Enjoy audio and photos from the event!
11 Photos
Guests serve themselves at Policy and a Pint.

(MPR / Nate Ryan

)

Steve Seel begins the discussion.

(MPR / Nate Ryan

)

Guests watch the discussion at Policy and a Pint.

(MPR / Nate Ryan

)

Steve Seel and guests discuss student loan debt.

(MPR / Nate Ryan

)

Student loan debt is discussed at Policy and a Pint.

(MPR / Nate Ryan

)

Steve Seel and guests discuss the student loan crisis.

(MPR / Nate Ryan

)

Listeners fill the Varsity Theater for Policy and a Pint.

(MPR / Nate Ryan

)

Steve Seel and guests discuss student loan debt.

(MPR / Nate Ryan

)

Visitors at the Varsity Theater for Policy and a Pint.

(MPR / Nate Ryan

)

Steve Seel takes questions from the crowd at Policy and a Pint.

(MPR / Nate Ryan

)

Listeners ask questions at Policy and a Pint.

(MPR / Nate Ryan

)
View 10 more photos