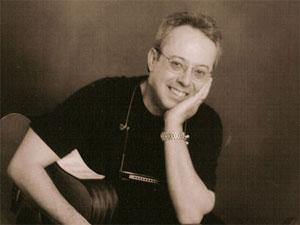 Most of us know at least one Woody Guthrie song that we can sing along to...maybe more. But the impact he had, and continues to have on American music is much, much bigger than we know.
Woody Guthrie was born 100 years ago, on July 14th, 1912. He dropped out of high school and lived in the streets of Okemah, Oklahoma before thumbing his way out west to seek fame and fortune...with a guitar and a pen.
He only got about 100 songs recorded, but scholars are still finding new material scribbled in notebooks and napkins and other odd places, plus a few novels and some artwork too.
Charlie Maguire and Pop Wagner have been students of Guthrie's music for decades. They stopped by the studio to play some of his material and talk about a very big man in a very small body.

This in-studio feature aired on
Radio Heartland
July 13, 2012.
Guests
Charlie Maguire
Pop Wagner
Resources
1 Photo
Pop Wagner

(Photo courtesy of the Artist

)