Hype bands old and new: 5 new tracks you'll hear on The Current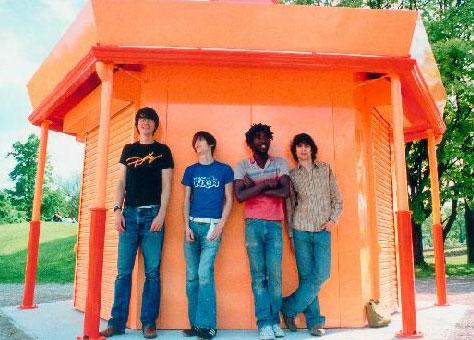 Here's a taste of the new music we've added to our mix of songs this week on 89.3 The Current. We catch up with Stars and Bloc Party, who both rose to fame accompanied by massive hype in the early 2000s and have since established themselves as esteemed, talented acts. We also have tunes from the latest generation of buzzed-about artists, including newcomers Frank Ocean and Angus Stone.
Bloc Party – "Octopus"
Post-punk-inspired UK quartet Bloc Party crash-landed on the indie scene in 2004 amidst a tornado of hype around their debut Silent Alarm. Since then, the band has embraced a more experimental and eclectic set of influences, including on lead singer Kele's 2010 solo debut. Their fourth album — which, like Beyonce before them, they've given the descriptive albeit bland title Four — is due out on August 20. The first single is the kinetic, catchy "Octopus."
Stars – "Relativity"
Spurred by the success of their widely beloved 2003 album Set Yourself on Fire, Canadian indie-rockers Stars were part of the 2000s' Canadian indie explosion, alongside friends Broken Social Scene, Feist and more. Several releases and nearly a decade later, the band will release their sixth album, The North, on ATO Records this September. The quintet recently debuted the album's sunny first single "The Theory of Relativity."
Angus Stone – "Wooden Chair"
 
Brother-and-sister duo Angus & Julia Stone began playing music together in 2005, but it wasn't until 2010's "Big Jet Plane" that they scored their first big hit, climbing the charts in Australia and even making a dent over here as well. In the wake of that success, the siblings are focusing on their respective solo careers. This track comes from Angus' impending sophomore full-length Broken Brights, which finds him exploring a more rock-oriented sound.
Band of Horses – "Knock Knock"
Masterfully splicing together alt-rock and alt-country, Band of Horses have established themselves as potent voices on the American indie scene. They'll be returning with their fourth album Mirage Rock in the fall. "Knock Knock" provides an early taste of what's to come, and it's a high-energy, road-trip-ready tune perfect for summer.
Frank Ocean – "Lost"
Odd Future member Frank Ocean already made a name for himself as a songwriter for some of R&B's biggest names, and his unofficial 2011 release nostalgia, ULTRA was rapturously received in both underground and industry circles. Yet it's his official studio debut Channel Orange that offers him his first real chance to introduce himself to the wider world. He's seized on the opportunity, creating an Internet mini-scandal by coming out as bisexual and assembling an album that showcases the full breadth of his smart, playfully contemporary take on R&B and soul. Look out for the lush and funky minimalism of "Lost" on The Current airwaves.