Flavor Crystals performs in The Current studios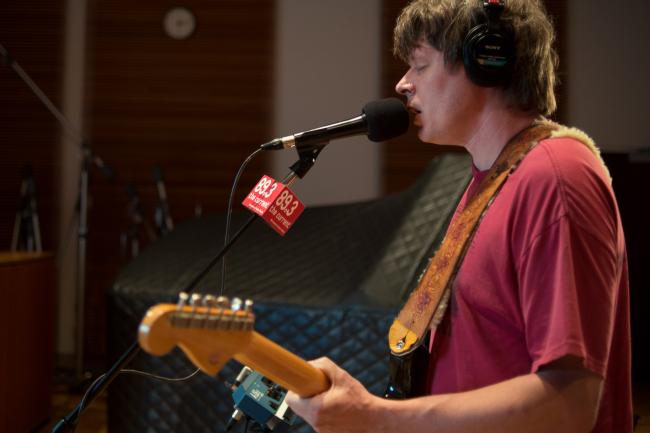 Three is the magic number for Flavor Crystals. Three is the name of their new record, it took three years to record and it's their first release in that many years. It's a welcome surprise: the psych-rock band put out two of the Twin Cities' most acclaimed (and overlooked) releases during the mid-2000s, a pair of records which spawned a tour with Brian Jonestown Massacre.
The new album is a mix of instrumentals and spaced-out rock gems, always layered with ample reverb. It's a long overdue addition to their catalogue, and one which has finally brought the band out of their dimmed basement studio and into the spotlight.
Songs performed: "Mirror Chop," "Snow Falling On Ono" and "Cow In The Meadow"
Guests
Resources
7 Photos
Flavor Crystals performs in The Current studios

(MPR Photo / Nate Ryan

)

Flavor Crystals performs in The Current studios

(MPR Photo / Nate Ryan

)

Flavor Crystals performs in The Current studios

(MPR Photo / Nate Ryan

)

Flavor Crystals performs in The Current studios

(MPR Photo / Nate Ryan

)

Flavor Crystals performs in The Current studios

(MPR Photo / Nate Ryan

)

Flavor Crystals performs in The Current studios

(MPR Photo / Nate Ryan

)

Flavor Crystals performs in The Current studios

(MPR Photo / Nate Ryan

)
View 6 more photos