Album Review: Dawes - Nothing is Wrong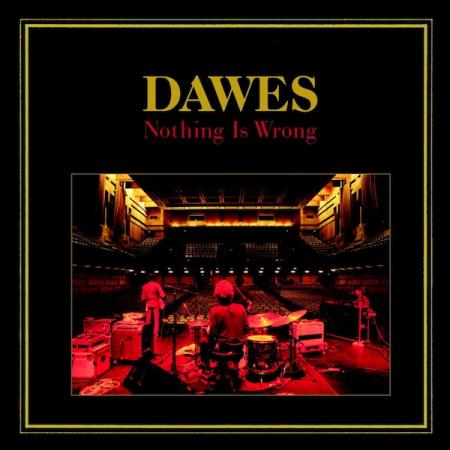 Dawes has returned with its highly anticipated new album, Nothing is Wrong. The Los Angeles band's debut, North Hills, was largely influenced by the California folk/rock scene of the '70s, which centered around the Laurel Canyon area where the album was recorded. This is a band steeped in rock tradition. They recently backed Robbie Robertson of The Band for some TV appearances, and their new album even features Jackson Browne's background vocal on the song "Fire Away."
Dawes' second album is no sophomore slump! Instead, it seems like an album from another era. Crosby, Stills, Nash and Young and Tom Petty come to mind, among others. But great songs come from all eras. These are expertly crafted and full of warm, sun-drenched harmonies and heartfelt lyrics. You can feel Taylor Goldsmith's ache on his songs of love and love gone wrong. It's that "special kind of sadness" that's mentioned in the album's lead track, "Time Spent in Los Angeles." Goldsmith has wisdom beyond his 25 years. His lyrics seem like they'd come from a man who's spent 25 years on the road.
Nothing Is Wrong isn't the freshest album in the world. Many tracks wouldn't sound out of place among the warhorses you'd hear on a classic rock channel. But if you're a fan of songs, this album might suit your palate. It's a hearty portion from the aforementioned appetizer, "Time Spent In Los Angeles," to the album's dessert, "A Little Bit Of Everything," where Goldsmith sings, "I want a little bit of everything/the biscuits and the beans/whatever helps me forget about the things that brought me to my knees/so pile on the those mashed potatoes and an extra chicken wing/I'm having a little bit of everything." This track could have been written at a buffet table in anytown, USA while staring at his food, daydreaming about the gal he loved who's getting married to the other dude.
There's plenty to feed on here. "My Way Back Home," a gentle road song full of angelic harmonies and a majestic guitar break, transports you. Another highlight is "If I Wanted Someone," where Goldsmith declares, "I just want you to make the day move easy," then unleashes a ferocious guitar straight out of the Neil Young cookbook. You wonder if these songs are all autobiographical. Could one young guy, in a band on the rise, be dumped this many times?
In any case, Dawes has cooked up another good batch with Nothing is Wrong. Get it while it's hot! There's plenty to go around!