Album Review: The Gaslight Anthem - Handwritten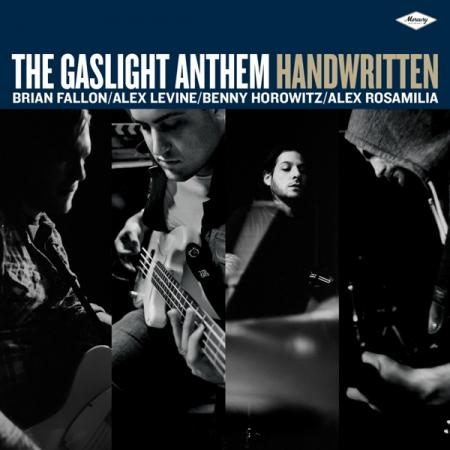 The guys in The Gaslight Anthem aren't here to save music. They're just a bunch of dudes playing straightforward rock 'n roll without a lot of fancy bells and whistles — not unlike their East Coast peers The Hold Steady.
Handwritten, the much anticipated new release from the New Jersey quartet, has high hopes pinned to it. The band is seen by many as one of guitar-driven rock's potential latter-day heroes.
The Gaslight Anthem's music embraces many elements of the Jersey Shore sound. Singer Brian Fallon's fondness for Springsteen, who is a significant influence on their music, is an attribute celebrated by both fans and critics alike. However, the band claims they never set out to sound like the New Jersey icon.
On Handwritten, the band is having a good time simply making a ruckus and playing their tunes without a lot of fanfare. While I'm sure the band will eventually become irritated by the long shadow of the Boss's legacy, the Springsteen similarities run deeper than shared Garden State origins. The Gaslight Anthem's great storytelling, catchy choruses and anthemic vibe are surely what draw the comparisons.
The band traveled to Nashville, Tennessee in February to record Handwritten with Grammy-winning producer Brendan O'Brien. To avoid distraction, the band holed up at Blackbird Studios, which is owned by country star Martina McBride and her husband, John. The trip to Nashville not only produced an album the band is excited about, but also proved their bond remains strong as they pass the half-decade mark of their career.
It's funny when a band can stick out by simply playing straightforward rock music. On Handwritten, that is exactly what The Gaslight Anthem do. And they do it with great success.
Resources
What is Spotify?