New music from some of our favorites: 4 tracks you'll hear on The Current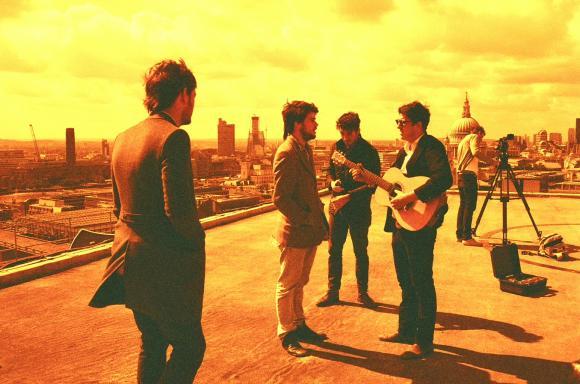 We've added a bunch of excellent music to The Current's mix of songs this week, including returns from one of our favorite newer artists and one of our favorite older ones. When they first debuted, Mumford and Sons were one of the most promising new acts to land on our airwaves, and we've finally got a first taste of what their new album will sound like. Bob Mould needs no introduction, and we're happy to spotlight what may be some of the finest music of his solo career. Plus, we've got new music from reggae legend Jimmy Cliff and a new track from Sea Wolf.
Mumford and Sons – "I Will Wait"
Perhaps the definitive breakout band of 2009, London-based Mumford and Sons soared to massive success both in their home country and in the States thanks to powerhouse singles like "Little Lion Man" and "The Cave." Next month, the band hopes to ward off the sophomore slump with their second album Babel. Their first single, "I Will Wait," is a promising signal that the band hasn't lost their mojo — it's a busy, banjo-powered mid-tempo number that delivers the delicate harmonies and wistful aura that brought them fame in the first place.
Bob Mould – "The Descent"
Bob Mould's post-Husker Du career has been long and varied, encompassing the alternative radio-ready power-pop of Sugar as well as his improbable detours into electronica (not to mention an even more outlandish stint as a scriptwriter for professional wrestling company WCW). Mould recently announced a tour on which he'll be playing Sugar's Copper Blue in its entirety, and if first single "The Descent" is any indication, his latest album Silver Age promises a similar return to the classic Mould sound. All punishing power chords and anthemic vocals, the track is one of Mould's most ferocious in ages.
Jimmy Cliff – "World Upside Down"
Reggae legend Jimmy Cliff has released dozens of albums in his four-decade-plus career. While few would expect that his latest, Rebirth, would measure up to the grace and exellence of his music on the genre-defining 1972 The Harder They Come soundtrack, the album shows that Cliff is still as remarkably deft and gifted a singer and songwriter as he's always been. The organ-powered "World Upside Down" is a joyous, potent slice of soulful vintage reggae.
Sea Wolf – "Old Friend"
Sea Wolf is the musical vehicle for L.A.-based singer-songwriter Alex Brown Church. His debut Leaves in the River and its follow-up White Water, White Bloom showcased Church's lovely, melodic indie-pop and earned him a following. His third album, Old World Romance, promises to find Church refining and nuancing his sound. First single "Old Friend" is a slow-building, lulling ode to bonds that grow and change with time.