The Current's Most Anticipated Albums of Fall 2012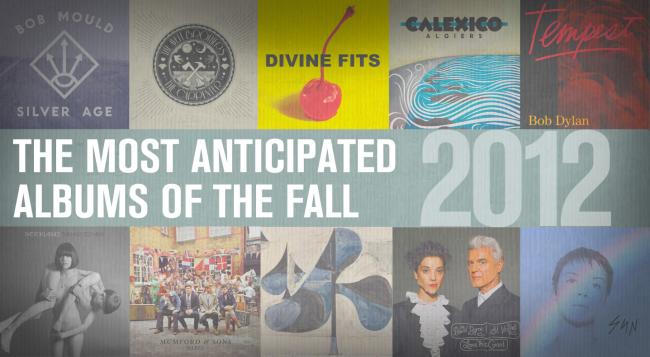 On first glance, autumn may seem to be a season where everything slows down. The summer is over. Leaves turn brown, the temperatures drop, kids go back to school, and everyone settles into their daily lives, bracing for winter. But in the music scene, it's often a time when things start to really rev up. Sure, the summer festival season will soon be behind us, but with countless major album releases and huge tours slated for the coming months, and more being announced every day, it's bound to be an exciting season this year. Here at 89.3 The Current, we've been getting pretty excited, so we've rounded up our staff's most anticipated releases for the fall. Check out what everybody had to say below!
Barb Abney, Host
Cat Power – Sun (out 9/4)
Chan Marshall is Cat Power. We're just a couple of weeks from the release of her ninth studio record, Sun. I don't know what it is about Chan Marshall that drew me in when I was introduced to her music. Perhaps it was her harmonies or the evocative lyrics. Maybe it was the mystery of her live performances and the stories of erratic on-stage behavior. Maybe it's because I feel a kinship to another non-linear thinker. Likely, it's a healthy combo of all these points and the addictive qualities of the lead-off single "Ruin" that has me chomping at the bit for Sun to be released.
Lindsay Kimball, Assistant Program Director
Avett Brothers – The Carpenter (out 9/11)
It's been three years, but The Avett Brothers are back with a new album The Carpenter, the follow-up to 2009's I and Love and You. Again, they worked with producer Rick Rubin, who does a masterful job at bringing out their best assets — beautiful harmonies, catchy melodies and strong songwriting. Their songwriting skills are most evident in their unlikely lead single "Live and Die," about the daughter of bassist Bob Crawford, who was diagnosed with brain cancer last year. This new album is more introspective and personal, a sign that the brothers have grown up.
Steve Seel, Host
St. Vincent & David Byrne – Love This Giant (out 9/11)
Few cross-generational collaborations seem more obvious (in hindsight, of course), than the super-anticipated album pairing avant-pop éminence grise David Byrne with guitar-strangling chanteuse St. Vincent (née Annie Clark). Or maybe it's not obvious at all. Since his Talking Heads days, Byrne has typically positioned himself as the geek-out-of-water, seeking out more "straight" (albeit firmly multi-cultural) performers to better contrast his spastic weirdness with; teaming with St. Vincent is simultaneously a throwback to the days when the Heads employed the likes of bizarro-guitarist Adrian Belew (and Byrne was collaborating with fellow oddball brainiac Brain Eno), and also a kind of christening of Annie Clark as a member of the new generation of top-tier avant-poppists by mere association. Will the album produce fireworks or a fizzle? Byrne has had his share of both in his long career.
Mac Wilson, Host
Jens Lekman – I Know What Love Isn't (out 9/4)
One of my most eagerly-anticipated albums of the fall is Jens Lekman's new album, , I Know What Love Isn't, due September 4. Lekman has interestingly stated that this is his first true "album," as opposed to a compilation of songs, and the concept is one of his old standbys: romantic woe. If Lekman's past work is any indication, expect plenty of outrageous metaphors that seem zany on their face, but reveal unexpected dimensions into the human soul.
Jim McGuinn, Program Director
Bob Mould – Silver Age (out 9/4)
You might accuse Bob Mould of a bit of oversharing. After all, he did publish a memoir last year, putting into words his version of the events of his life — including his time here in the Twin Cities, Hüsker Dü's success and breakup, his sexuality, his solo career, his work with Sugar and as a DJ, and coming to terms his status as a punk veteran. In 2012, he's embracing a little of that past by playing Sugar's recently re-issued Copper Blue front to back on the road... but Bob seems like a restless guy who is always moving, so September will see a new album from him. What direction? Given his move towards Sugar it seems more than likely to include the sound of buzzsaw guitars and heavy power pop than the electronica experiments he gravitated towards at the start of the 2000s. Either way, expect some good reflection on hitting the big 50 last year and continuing to keep it real in rock for 30 years. Having followed his career that whole time, I look forward to finding out "what about Bob" on Silver Age.
Jacquie Fuller, Host
Calexico – Algiers (out 9/11)
There are a lot of great releases coming out this fall, but I'm particularly excited about, Algiers, the new one from Tuscon, Ariz.'s Calexico. It's the first release in four years from the band some have dubbed "mariachi rock," but whose sound traverses more borders than just the one south of us. Algiers was recorded in New Orleans, a city whose tumultuous history will hopefully lend this release something of moodier, more decadent feel.
Bill DeVille, Host
Bob Dylan – Tempest (out 9/11)
I'm kind of excited to learn Bob Dylan has a new album on the way! Tempest is set for release in a matter of weeks, and the anticipation of the album is half the fun of it! If I were a betting man, I would guess it will be a pretty decent album. Bob has been on a roll since he released Time Out of Mind in 1997. Even his record Christmas In the Heart had a few moments; I loved the whimsical video for "Must Be Santa"! I know Dylan's vocals are pretty cooked, but I suspect his rollicking arrangements and lyrical prowess will win out on this one.
Jon Schober, Local Music Assistant/Music Assistant
Flying Lotus – Until the Quiet Comes (out 10/1)
At just 26 years old, L.A.-based Flying Lotus has become the critical darling of experimental electronic hip-hop. That's no surprise to many who have followed his career closely: his resume boasts collaborations with — just a sampling — Gonjasufi, Thom Yorke and Erykah Badu. The two latter names appear on his new effort Until The Quiet Comes, the follow-up to 2010's deliciously weird Cosmogramma. The album is likely to give this beat-master another trophy for the genre he has helped bring mainstream in recent years.
Jill Riley, Host
Grizzly Bear – Shields (out 9/18)
The latest record from Brooklyn indie band Grizzly Bear is due out September 18th. So far, The Current has been playing two new songs from it — "Sleeping Ute" and "Yet Again." If this is a taste test of the new album, I can't wait to devour the entire thing in one sitting.
Peter Valelly, Associate Web Producer
Bat For Lashes – The Haunted Man (out 10/15)
Pakistani-British singer-songwriter Bat for Lashes (born Natasha Khan) has released two albums of dreamlike, slow-burning indie-pop that have slowly but surely become some of my favorite releases of the last several years. Her darkly hypnotic songs, shaded with folk and electronic influences, feel deeply familiar yet sound like no one else, and they reveal surprising new layers and textures over time. First single "Laura" — an exquisite exercise in raw yet controlled emotion — suggests that Khan's third album The Haunted Man will be a huge step forward for her.
Mary Lucia, Host
Divine Fits – A Thing Called Divine Fits (out 8/28)
Being a Spoon freak, I would listen anxiously and with an open mind to just about anything Britt Daniel put out... but teaming up with Handsome Furs and New Bomb Turks members?! Fuggedaboutit! It's always nice to have someone in your "I love everything he does" category decide to branch out and stretch his wings in a new indie supergroup. I love the way the way they individually wrap their heads around pop songwriting. I can't wait for the full length. I love it already.
Mark Wheat, Host
Mumford & Sons – Babel (out 9/24)
I never saw Mumford mania coming — a grimy folk band from London making it onto the Grammys?? — so I'm definitely looking forward to Babel, the year's most anticipated release in many ways. Because of the debut's phenomenal success, everyone will be watching to see if they can pull off another hit. Will they go electric, use synths, employ re-mixers?! They've mixed it up in other ways with the movie they made with Edward Sharpe, and their current "Gentlemen of the Road" tour. But when they debuted "I Will Wait" on the BBC Tuesday, Ben Lovett of the band (anticipating the hype perhaps) said, "It's the worst track on the album. It's only up from here!" And when asked about making the follow-up, he replied, "We didn't want to do anything massively new, not push the boat out too much. We're quite a basic band in our mentality, we didn't want to get too heady with it."