Album Review: Bloc Party - Four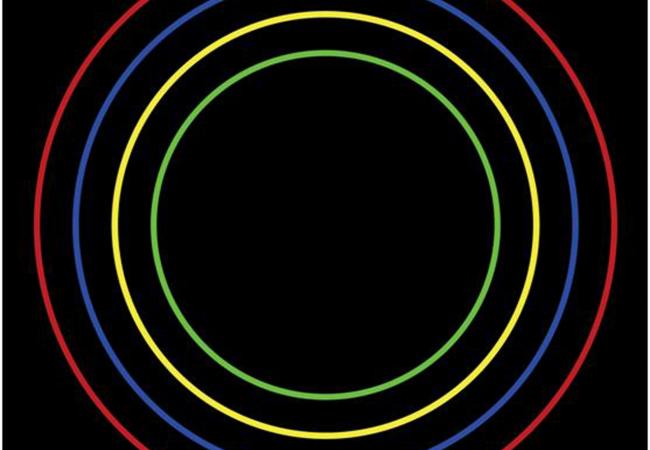 For many, Bloc Party's 2005 debut Silent Alarm was the best example of a promising new wave of British bands that were trying to meld the stuttering guitar work of post punk with the strident dance beats of the new century. Other bands who came along for the (albeit short) ride included Franz Ferdinand and Maximo Park. None have succeeded in utilizing the sound as the foundation for a long career.
It appeared that Bloc Party had moved on after Intimacy was released in 2008. Rumors swirled about an acrimonious rift between the band's three musicians and their singer, Kele Okereke — especially after he toured behind his own solo album, The Boxer, in 2010.
But Bloc Party is back, after a four-year break, with their fourth album, Four. In Britain, it's been well-received, and the band has just announced their biggest show ever at London's Earl's Court in February. Sonically, America's influence on the album is evident, so it will be interesting to see how well it fares stateside. They could be breaking new ground, creating a new genre or sticking their necks down a rabbit hole to nowhere.
Bloc Party has always featured jagged guitar interplay, and they like to dance — in fact Keles' solo was called a dance record — but the new addition to the sound on Four is intense guitar-heavy riffs ripped straight from metal! Some are so quick and piercing, they seem to stream from death metal or speed metal, while other solos seem like a pastiche of hair metal from the 80s. Perhaps after witnessing the rise of EDM here in the States, and the way Skrillex and others use metal rifts as punctuation, Bloc Party thought they could be the rock band equivalent to ride this new wave to further success. The music seems designed for moshing in an open field at summer festivals ... so the fall release is poorly timed!
In an interview with the BBC's Steve Lamacq — who is credited with "discovering them" after Kele gave him a demo at a Franz Ferdinand gig — the band emphasized the influence of recording the album in NYC. Kele explained that although his head was in a good place during the recording, most of the songs convey a dense and depressing tone, a result attributed to the brutal surroundings of the city. But they were also exploring new ways of writing he explained, describing the opening track "So He Begins To Lie" as "like nothing we've ever done before. It has a restraint that I like, that creates a different kind of groove. We also listened to each other play better than we have before."
The band tried other experiments, too. They've always sounded so tight, crisp and airless in their production that it is bizarre to hear their voices mumbling studio banter to start the album. It happens several times throughout, as if they are pretending to be real, live and loose.
These mannerisms, lyrical murk and the metal riffs have opened Four to some scathing reviews already. Pitchfork gave it a 4.9! And — largely because I don't have an appreciation for metal music of any kind — large slabs of the album didn't work for me either.
If you sit down to listen to it as a whole, give it time. It is strangely sequenced. The lead single that we've been playing, "Octopus," is third on the record, but then I picked tracks #6 ("Day Four"), #8 ("V.A.L.I.S."), #9 ("Team A") and #11 ("The Healing") to play this week. I almost stopped listening in the middle of the album! But on tracks like "Team A," the new approach does work and Bloc Party still sounds like no other band around. Kele described the song as a standout: "[It is] the essence of how we have evolved: being able to throw ideas around and come up with something better than any of us could alone."
Watch the video for "Octopus"
Resources