Album Review: Mason Jennings - Blood of Man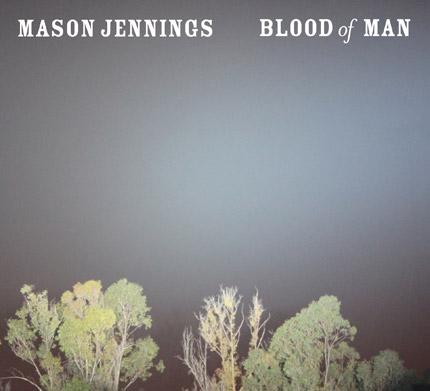 It turns out it's pretty easy to adapt to Minnesota, winters and all. But just as there's a rhythm of these seasons that a Hawaiian might never experience, there can be a deadening routine to living here, and like that January Thaw-cation escape, sometimes you need to bust out before the rut sets in.
Welcomed into the Twin Cities music community since moving here from Pittsburgh more than a decade ago, Mason Jennings has been prolifically turning out albums while maintaining the tricky hipster-to-sorority girl fan coalition. Blood of Man is his eighth release, but a shift from what we've come to expect from Jennings — he's daring to rock like never before. According to Mason, the sea change came about when his 3-year old saw an electric guitar Christmas ornament and told his dad he didn't know what it was. After Mason plugged in his wife's electric, the kids went wild, and soon he was penning songs about blood and murder, with riffs like early Zeppelin. Thinking this departure might never see the light of day, he kept going on his impulse, gathering a collection that adds a new dimension to his discography. And while it's mostly cloudy and cold like November on the prairie, there's something elementally rewarding about those short, dark days that enable us to savor the glory of our summers.
The first time you hear "Ain't No Friend of Mine" you probably won't believe it's the same guy that sang "Hey hey little Fighter Girl" on last year's Boneclouds. With taunt blues runs and creepy lyrics about bones, bodies, and blood on our hands, it's unclear exactly what's going on, and the mystery sucks us into the vortex of the song. The emotional linchpin of the album is "The Field," one of the best songs you'll hear in this or any year, bringing you into the mind of the father of a dead soldier with a visceral intensity and tenderness that connects Jennings to the best work of a Billy Bragg or early Dylan, making politics personal and heartfelt.
Murder, deceit, love lost, suicide, blood — this ain't your mom's Mason Jennings album. But just when you think the world's turned black, Mason brings us back from the brink with life affirming melodic sweetness in "Sunlight" and "Lonely Road," reminding us that "the point is never where you're headed, it's what you're going through."
Working alone in his cabin outside the Twin Cities, Jennings crafts his albums by himself — often writing and recording a song the same day, playing all the instruments. The result is roughly hewn, whether flailing away on the drums or keeping a vocal take where levels and harmonies are flawed but breathe with life, not pitch correction. In the hands of the wrong artist these songs would be perfected, and ruined — the road is littered with hundreds of dreaded and dreadful singer-songwriters who polish and rub the music so hard that any contrast and spark is lost in the gleaming finish. But a lot of Mason Jennings' charm comes from his ability to toss off lines and hooks effortlessly, connecting with a spontaneity that might be more like Neil Young than the oft-mentioned comparison to another legendary Minnesotan folk-rocker. And like Neil Young or even Beck, the hard left turn in the sound on Blood Of Man adds to the sense that this is an artist for the long haul, and not a flavor of the month. Thanks to Mason's son for rekindling Jennings' own love of the rock. Who knows that will happen if we send him a drum machine ornament this winter for his tree.
Resources
What is Spotify?