New sounds and old masters: 5 new tracks you'll hear on The Current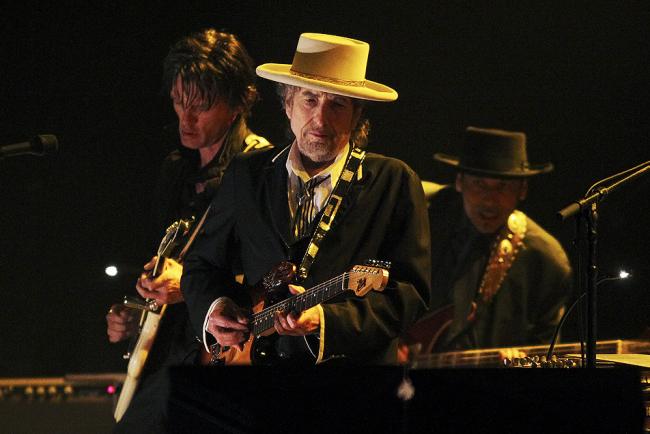 The State Fair is the center of attention this week, and with good reason, but we've also quietly been adding some great, varied new music to our mix on The Current. This week, we've got a new tune from music legend Bob Dylan, plus great new music from Ariel Pink's Haunted Grafitti, Muse and more!
Bob Dylan – "Duquesne Whistle"
The legendary singer-songwriter returns with his thirty-fifth studio album Tempest on September 10 on Columbia Records, and we've got our first taste of what the record will sound like with "Duquesne Whistle." The jaunty, readily hummable tune finds Dylan in wistful mode. While it's well-established that Dylan's pipes aren't quite what they used to be — indeed, his gravelly vocals here border on Tom Waits levels of stark gruffness — his vocal grit, in a uniquely Dylanesque twist, actually provides a nice contrast with the track's melodic sweetness. When you hear it, you know it can't be anyone else. Yesterday, the Guardian debuted the song's bizarrely violent yet alluring and mysterious video.

Kinky – "Despues Del After"
This Mexican quintet specializes in groovy, electro-tinged alt-rock. "Despues Del After," off of their fifth studio album Sueño De La Maquina, is a slick and streamlined collision of genres, wedding herky-jerky postpunk guitars with funky, danceable synth-pop hooks and a disco-esque bassline. Throw in some electronic burbles and (what else?) a few handclaps here and there, and you have song so catchy you'll want to learn Spanish just so you can sing along.
Ariel Pink's Haunted Graffiti – "Baby feat. Dam Funk"
Ariel Pink's early recordings as Ariel Pink's Haunted Graffiti — lo-fi and heavily distorted affairs with much of the percussion coming from Pink's own beatboxing — may have made him one of the most influential figures on the current crop of indie-rockers. Since 2010, Ariel Pink's Haunted Graffiti has gone from bedroom project to bona-fide band, and the music he's released since that change isn't just more professionally recorded and more tuneful than his earlier albums — it's arguably the strangest, smartest and often funniest work of his career. His latest full-length Mature Themes, released last week on 4AD, highlights the playful side of Pink's trademark fusion of psych-rock, indie and pop. Single "Baby," featuring L.A. synth-funk revivalist Dam-Funk, is a beautiful cover of a late '70s blue-eyed soul track from Donnie and Joe Emerson. You can see a video of Pink and company performing the track live below.

Muse – "Madness"
Over the course of five full-length albums, this UK outfit has pioneered a freewheeling and experimental take on Brit-pop, often absorbing influences from prog and metal. For their sixth album, The 2nd Law, the band claims to be making a radical break with their past, drawing influences from electronic influences like French house stars Justice and, of course, the massively popular dustepper Skrillex. Single "Madness" is an emotional ballad laid over minimal electro squiggles and squelches and adorned with swelling background vocals and occoasional guitar outbursts.

Purity Ring – "Lofticries"
This hotly-tipped Canadian outfit earned enough traction from their blog-centric buzz to sign with famed British indie label 4AD, who released their debut album Shrines in April. The duo crafts a unique strain of wounded indie electronica influenced by goth, R&B and contemporary hip-hop. "Lofticries," with its delicately assembled vocal stutters and darkly ethereal atmosphere, is perhaps their best track to date.