Album Review: Matt & Kim - Sidewalks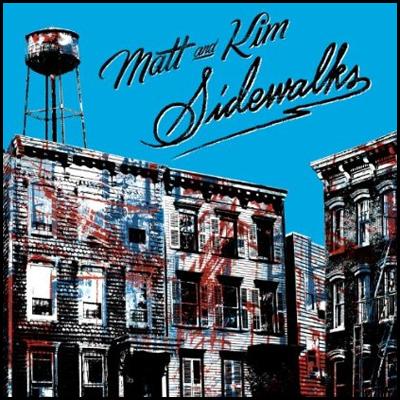 When you start listening to Sidewalks, the third full album from Brooklyn duo Matt Johnson and Kim Schifino, it feels like you're listening to a much larger band. The married couple — who go by the moniker Matt and Kim — fill the album with layer upon layer of synths, yelps and yeahs, syncopated steady drum beats and even some orchestrated horns and strings.
This is a far cry from the band's previous two albums, which were still heavy on the synth, but leaned more towards the DIY punk-pop side of things. The previous albums had a raw and adolescent vibe, with the last two being recorded in Matt's room and produced by just Matt and Kim. This time they've teamed up with Ben Allen (who had a hand in the most recent Animal Collective album, as well as Gnarls Barkly's debut), who has a way of pulling a more polished and pop-driven album out of the most unlikely places. What does this mean for Matt and Kim? Well, the raw jubilation is still there, but it's mellowed a bit and rounded out on the edges.
Sidewalks starts out with rock anthem sing-a-long "Block After Block" kicking and punching at the drums and keys for a fist pumping three minutes. The energy continues with the first single from the album "Cameras," which has the same infectious energy, but with a slower build up and bleating horns starting off in uneven pacing. Matt's synth and yelping vocals join in and speed up the song.
One of my favorite moments on the album was the slow and dreamy "Northeast", going back to the simplicity of the keyboard and drums, with some sleigh bells and Kim's harmonies up front and center. It's a really beautiful song and after pounding beats it's a pleasant breath in the album.
Matt and Kim are maturing with their third album. With the label Fader putting out the album and hooking them up with producers it's bound to change the sound and feeling of the band. We all have to grow up and get a job at some point. It's not selling out, it's just a part of life. That being said, while Sidewalks takes the band in more of a straight-up pop direction, the exuberant energy and jangly fun that has always been a part of the duo's charm is still there, "and all our hopes/and all our friends/through parking lots/it's where we've been." It seems like the album is a hindsight version of your past where you gloss over the hard parts and only see the sweetness.