Citizen Mark: DJ Mark Wheat reflects on becoming a U.S. citizen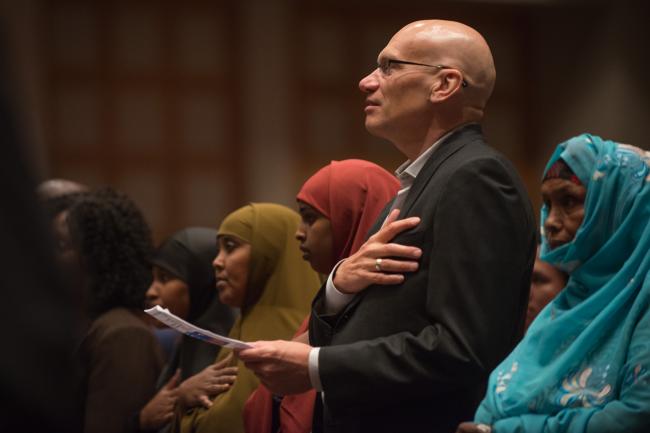 On Thursday, Sept. 6, The Current's Mark Wheat became a naturalized U.S. citizen. He recently sat down to share his thoughts about his decision and about his experience of becoming an American.
When you first moved to the United States, was it your plan to become a permanent resident from the beginning?
In those days, coming out of college, I didn't tend to plan too far ahead. I don't think I ever consciously said, "This is going to be forever." I went backwards and forwards three years in a row, two years to work at a summer camp and one year just to travel and to hang out with my stepbrother who lived in Los Angeles at the time. I did odd jobs and it was kind of a "Let's try it and see if it works" period for me. It was touch-and-go whether I could make it work financially and every other way, so "no" is the short answer to that question.
How did you eventually arrive at the decision to take U.S. citizenship?
One of the main motivations was when people ask, "What's the difference between being a resident alien and being a citizen?" The basic answer is, "An alien can't vote."
Then I started to realize I'm a supporter of getting out the vote. In fact, if you pushed me, I would say I think it should be mandatory to vote if you're going to make democracy work; people have to be involved. But it was really easy for me to say that and go, "But I don't have to be involved because I'm not a citizen!"
After a while, part of me felt that was a little hypocritical. Ultimately, if I do believe in this democratic process, I should put myself in a position of having to make the decisions on Election Day that everybody has to make.
So that really was the genesis of going to the lawyer and asking, "How does this work? Can I do it? What are the advantages and disadvantages?" From a personal point of view, voting was one of the key reasons for doing it.
Another motivator was that I passed a milestone: Four years ago was the point at which I'd been here longer than I'd lived in England. So then I started to ask myself, "Well, what are you really when you've spent more time here than you ever have over there?"
I often find myself — at the State Fair all last week, for example — I find myself saying, "I have a dream job!" [In England] I couldn't possibly, never in a million years, have had the career that I have now. There's no equivalent other than the BBC, and I know full well that I never would have got on the BBC. It's crazy to contemplate.
If I have a dream job, then I guess it's apropos to be American because the American Dream, one way or another, attracted me in the first place, and I've kind of lived it in a very real way, socially making a better life for myself and creatively doing something I couldn't possibly have done in my home country. It made me think it's unseemly to then turn around and say, "But I don't care enough to be a citizen of the country."
Are you keeping your British nationality?
Yes, it's a dual citizenship. I'm not renouncing one and taking the other. There's a part of me that would love us all to want to become citizens of the world. That opportunity is not afforded us yet. I think maybe a couple of generations down the line, it will be. It should be. Maybe it's the only way we're going to survive ... just considering yourself a citizen of the world, whatever the legal status.
And this has been a part of my process, too, because symbolically, it's dual citizenship, so it's almost like I'm becoming a citizen of the world, one country at a time!
How was the legal process of becoming a naturalized U.S. citizen?
It's not as hard as I thought. The whole process, I have to say, has been really quick. I applied in June and here we are finalizing it in September. All the basic legal stuff was taken care of at an office on University Avenue one morning — fingerprints, photo — 20 minutes. And then I met with an immigration officer. He went through the paperwork and made sure everything was in order. The officer will then ask you up to 10 questions out of a list of 100, so basically you study this list of 100 questions ahead of time and make sure you know them. You're supposed to get six out of ten correct. The immigration officer asked me seven questions and I got them all right, so I passed with flying colors.
Have your close friends shared any thoughts with you about your citizenship decision?
It's funny — just my nature, I suppose — but I haven't really talked to many people about it. Those I have, like everyone at work, have been really supportive.
I work on a committee with some friends, people I've known for a long time, and I kind of made an announcement about becoming a citizen. It didn't seem a big deal to me at the time, but they — especially two of them — were very positively affected by it, even saying they kind of teared up knowing I wanted to do that. Good friends wanted to be at my naturalization ceremony, which I didn't foresee. That's really been heartwarming. People have really responded in a positive and emotional way, which is kind of huge.
What thoughts would you have for others who may be considering naturalization?
I would have to say it's maybe easier than you might think. From a philosophical standpoint, I think I have had a sea change in thinking about this. I feel that it is a show of respect to the country you live in, and in my experience, the citizens of that country see it as being a mark of respect and it's therefore celebrated by them. There's a part of me that would say do it in respect to the country if you are pretty sure that you're going to stay here indefinitely.
It also makes you feel more stable. I think people take care of the environment when they feel connected to it in some way, and so I think as a citizen, you want to keep the place healthy.
Does this affect your connection to your listeners at all?
There's a certain portion of people who don't know where I come from. That question is still up in the air for people who only hear me as a voice on The Current and haven't dug on the Web for background. A number of them admit to me that they think I'm from Australia or New Zealand or South Africa. I've also heard people say that I'm not English, or that I'm putting on an accent and doing it badly.
So this maybe will answer, once and for all, the question of where I am from originally. I also hope the listeners respond positively, thinking, "Oh, that's great — he's even more part of our community now. Wherever the hell he comes from with the wacky voice, now at least he's a citizen."
If they react positively to me being in their community, that's awesome. I like to think of myself as a Minnesotan.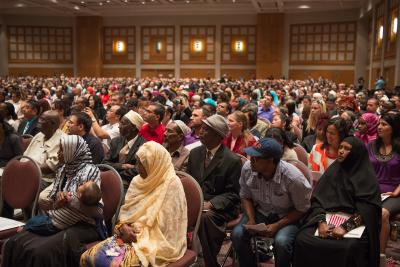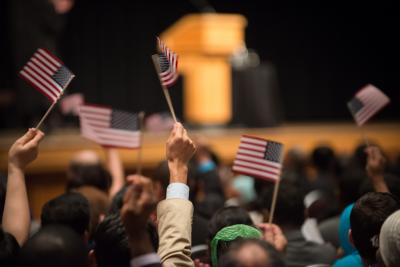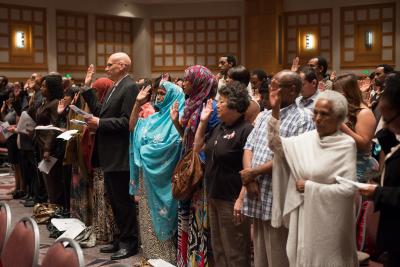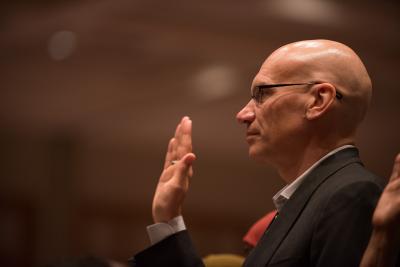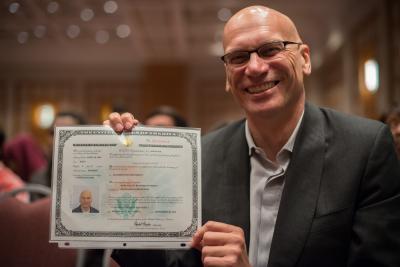 Guests
5 Photos
89.3 The Current DJ Mark Wheat becomes a naturalized American citizen

(MPR / Nate Ryan

)

89.3 The Current DJ Mark Wheat becomes a naturalized American citizen

(MPR / Nate Ryan

)

89.3 The Current DJ Mark Wheat becomes a naturalized American citizen

(MPR / Nate Ryan

)

89.3 The Current DJ Mark Wheat becomes a naturalized American citizen

(MPR / Nate Ryan

)

89.3 The Current DJ Mark Wheat becomes a naturalized American citizen

(MPR / Nate Ryan

)
View 4 more photos