Album Review: Brother Ali - Mourning in America and Dreaming in Color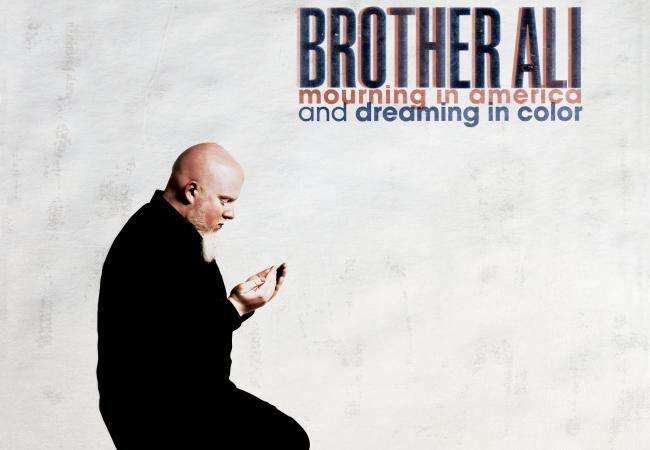 Brother Ali has endured a series of emotional highs and lows over the last few years — including losing his father, the death of Rhymesayers labelmate Eyedea and visiting Mecca. Fittingly, his new record, Mourning in America and Dreaming in Color, strikes a similar balance between darkness and light.
As the title suggests, the album opens with contemplation on the State of the Union and an unflinching analysis of the challenges we face as a nation, painting a dark portrait of modern-day politics. "Letter to My Countrymen" begins upbeat — a vibraphone-heavy soul groove bounces optimistically underneath his verses — but less than a minute into the song, Ali gently suggests we start tending to the issues at hand. "I want to make this country what it says it is," he raps calmly and assuredly, unspooling the first of the album's many thematic statements as he addresses issues like racial disparity, economic privilege and apathy.
Such a politically charged album could sound preachy if handled clumsily — especially when released seven weeks before a Presidential election. But the issues Ali addresses on the album are broader than the buzzword-heavy talking points being bandied about this voting season, and he only expresses vague feelings about the President. Rather, his main beef is with the system as a whole; throughout the record's first nine tracks, he deconstructs the challenges facing middle and lower-class America and offers his viewpoint with searing, unwavering honesty.
Some tracks provide a stream-of-consciousness narrative of Ali's own life (as with the confessional "Stop the Press"), while others zoom further out to examine what's happening in his community and across the country. Ali is certainly not afraid to express his anger and frustration over what's happening, especially on the scathing "Mourning in America," where the repeated hook of "Murder, murder/kill, kill, kill" flows into controversial proclamations like "It's a very thin line between a soldier and a terrorist." But on most of the other tracks, his cadence is relaxed and conversational, showcasing his personal approach to sociopolitics and his skill for presenting intellectual ideas in a universal language.
Despite all of the darkness present on the album's opening tracks, Ali still finds hope, and the last third of the record is spent meditating on his family and the deep bond he feels to his community. In one of the album's only faltering moments, Ali tries too hard to ramp the mood back up and veers into schmaltz on the chorus of "My Beloved" — yet the levity of the song also provides much-needed breathing room after such a long string of diatribes. My favorite track is the short "Namesake," which harkens back to his feel-good classic "Forest Whitaker."
For the first time since 2003, Ali parted ways with Ant to collaborate with accomplished producer Jake-One (50 Cent, Rick Ross, Snoop Dogg), and the production channels the soul influence of his earlier work while simultaneously pushing him forward creatively. When viewed as a whole, Mourning in America is Brother Ali's most lyrically and sonically cohesive effort yet.