Grizzly Bear in studio performance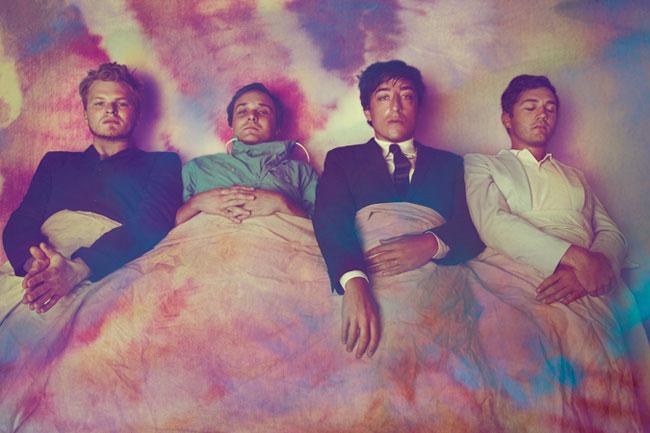 A decade ago, Grizzly Bear was the moniker for vocalist and keyboardist Ed Droste's bedroom recordings. Today, Grizzly Bear is a four-piece band — since 2005, Droste has been joined by guitarist, multi-instrumentalist and vocalist Daniel Rossen, bassit Chris Taylor (also of CANT), and drummer Christopher Bear — four albums deep into a career as one of the defining voices of indie rock in the 2000s and 2010s.
Grizzly Bear debuted in 2004 with Horn of Plenty, composed largely of Droste's solo music, which caught the attention of music fans and indie tastemakers. 2006's Yellow House made good on that promise, with the band's full line-up coalescing to deliver ten tracks of languid, lovely psychedelic folk-rock. 2009's Veckatimest found the band collaborating closely to refine their sound and hone their songwriting, and it became the quartet's most commercially and critically successful album to date.
With Shields, which was released September 18 on the band's longtime label Warp Records, Grizzly Bear has stripped away some of the dreamier trappings of their earlier sound for a rawer and more straightforward approach.
Currently on a North American tour, Grizzly Bear recently had a chance to chat with Mary Lucia and play a few songs.
Songs played: "Sleeping Ute," "Yet Again," "A Simple Answer" (web exclusive) and "Gun Shy" (web exclusive).
Guests
Related Stories
Grizzly Bear performs in The Current studios Beginning at home as an experimental project, Grizzly Bear has pushed their lo-fi roots to the limits in their 2009 CD "Veckatimest."
Grizzly Bear performs in studio What started out as a Edward Droste's post-relationship home-recording session has turned into the multi-instrumental band Grizzly Bear. They like to approach all of the songs as stories, from prologue to completion.