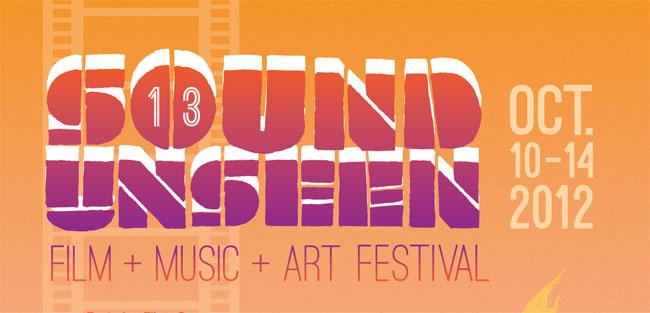 Sound Unseen, Minneapolis' annual festival of films about music, returns this fall with a full slate of films whose topics range from cartooning to hardcore, from the history of radio to the stories of musicians both obscure and legendary. Join The Current, Sound Unseen and Take-Up Productions in celebrating music on film. All films will be screened in HD at the Trylon (3258 Minnehaha Ave in Minneapolis) and cost $10.
Wednesday, October 10 at 9 p.m.
Bad Brains: A Band in D.C.
directed by Mandy Stein & Benjamen Logan, 2012, USA, 104 minutes
Bad Brains are one of the most and influential American bands still working today. They melded punk and reggae into an innovative style that has yet to be copied. Their impact and influence can be heard in groups like Beastie Boys, No Doubt, Nirvana, Jane's Addiction and countless more. Despite the troubles of an eccentric front man they have stayed together for 30 years without ever reaching the level of success so many think they deserve. (This screening is sold out)
Thursday, October 11 at 9 p.m.
xxx All Ages xxx: The Boston Hardcore Story
directed by Drew Stone, 2012, USA, 85 minutes
Driven by a powerful soundtrack of classic first generation Hardcore, director Drew Stone's xxx All Ages xxx documents the early Boston Hardcore music scene from 1981 through 1984. The film delves deep into the social and communal aspects of that unique and explosive era. (Director Drew Stone & Executive Producer Duane Lucia will be present at this screening!)
Saturday, October 13 at 11 a.m.
Cartoon College
directed by Josh Melrod & Tara Wray, 2012, USA, 75 minutes
A thoughtfully funny look into the world of aspiring indie cartoonists and graphic novelists, this documentary follows a group of students at one of the most selective and grueling art schools in America: The Center for Cartoon Studies in the ramshackle village of White River Junction, Vermont. Cartoon College features the music of Beulah, Portastatic, Tortoise, Tokyo Police Club, and more.
Saturday, October 13 at 1 p.m.
The Crumbles
directed by Akira Boch, 2012, USA, 73 minutes
The Crumbles is an indie rock slice-of life tragicomedy about Darla, an overly serious musician whose stagnant life is shaken up when her long lost best friend Elisa shows up and crashes on her couch... indefinitely. Elisa is charming and musically gifted, making her the perfect partner in the band that Darla has long wanted to start up.  But when the band gets rolling, insecurity, heartache, and oversized egos all work against them.
Minor/Major: The TV on the Radio Documentary Tour 
directed by Chioke Nassor, 2012, USA, 29 minutes
This documentary is a portrait of the band, TV on the Radio as they transition from indie darlings to a major label success.  We watch as they struggle to come to terms with the business side of the music business while trying to maintain artistic integrity.  Also, this film features 89.3 the Current's own Bill Deville.  
Saturday, October 13 at 5 p.m.
Beware of Mr. Baker
directed by Jay Bulger, 2012, USA, 100 minutes
Ginger Baker is best known for playing drums in Cream and Blind Faith, but the world's greatest drummer didn't hit his stride until 1972, when he arrived in Nigeria and discovered Fela Kuti's Afrobeat. This documentary includes interviews with Eric Clapton, Steve Winwood, Charlie Watts, Carlos Santana and more.
Sunday, October 14 at 1 p.m.
Radio Unnameable
directed by Paul Lovelace & Jessica Wolfson, 2012, USA, 87 minutes
Radio Unnameable tells the story of influential radio personality Bob Fass who revolutionized the airwaves by developing a patchwork of music, politics, comedy and reports from the street, effectively creating free-form radio. For nearly 50 years, Fass has been heard at midnight on WBAI-FM.
Brute Force
directed by Ben Steinbauer, 2012, USA, 15 minutes
From the director of Winnebago Man comes Brute Force.  In 1967, Brute Force had just released his first album on Columbia Records and was on the brink of becoming a star.  The Beatles championed his next single, "King of Fuh," to be released on Apple Records.  But dreams of fame and fortune quickly turned into nightmares when the record was censored and permanently shelved.  In 2010, Sony and Apple reissued Brute Force's controversial music from the sixties, giving him another chance to re-capture his dreams of rock stardom.
Sunday, October 14 at 3 p.m.
Charles Bradley: Soul of America
directed by Poull Brien, 2011, USA, 75 minutes
Charles Bradley: Soul of America captures the extraordinary late in life rise of 62-year-old aspiring soul singer Charles Bradley, whose debut album, "No Time For Dreaming," took him from a hard life of poverty, homelessness and tragedy and rocketed him onto Rolling Stone magazine's top 50 albums of 2011.