Album Review: Neil Young & Crazy Horse - Psychedelic Pill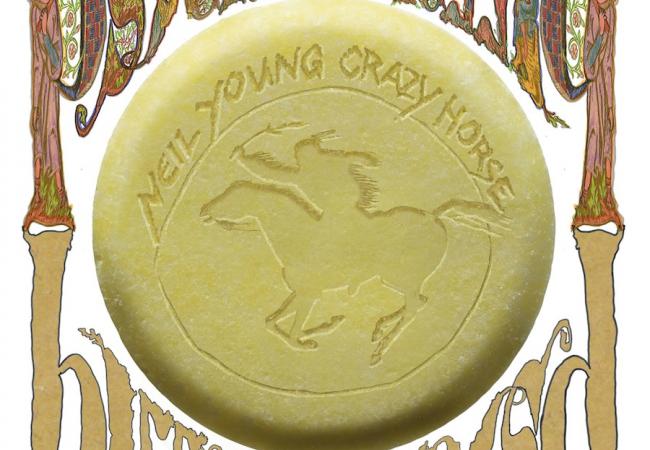 Contribute today and get Psychedelic Pill by Neil Young & Crazy Horse as a thank you gift.
Neil Young left his first hit-making band, Buffalo Springfield, in 1968 ... 44 years ago! It's amazing that he's still making double albums of new material — some of which is now being revered as seminal output by a living legend.
Who else is doing that? Bob Dylan, maybe ... he gets a big shout out as a major inspiration for Neil — along with The Grateful Dead and "Roy" (Orbison?) — on "Twisted Road." Like Bob on his recent record, Tempest, Young (who has often experimented with new sounds, techniques and performance styles) seems content with his place in the world. He's glad to have his legacy and family — and especially to have the old band back together. He's been looking back a lot recently, and that reflection heavily informs this wonderful record — his first double album with Crazy Horse in almost 16 years!
Full disclosure: 1979's Rust Never Sleeps was the only Neil Young album I ever brought, so it might not be surprising that the readily apparent similarities on the new album work for me.
I love the gnarly guitar sound on the live Crazy Horse side of Rust. That sound can be heard on Psychedelic Pill, and along with lyrical references in the album's opening track, "Driftin Back" — the "Hey now nows" ring like the Rust track, "Hey Hey My My" — it takes me right back to '79.
The most famous line from Rust's "Hey Hey My My" is "better to burn out than to fade away," — which was apparently used in Kurt Cobain's suicide note. This new album is Neil's way of sticking to his own tenants. After inspiring grunge rockers 20 years ago with his flannel shirts and attitude, he comes out punching, running his old band through their longest workout: 27 minutes of long guitar solos (a rarity these days). It's hard to see how the A.D.D. world of pop music will get past even that first song.
Young just released his memoir, Waging Heavy Peace, and he mentions it twice in the first 7 minutes of this opening track, addressing the audience directly. He's worried about how we hear him these days. Young dislikes mp3s and took pains to make this record as analog as possible, believing this to be the only way that fans can hear his soul, the time he puts into making his music and the wisdom of a life lived playing and performing. He seems at peace with the idea that he might now be speaking only to his old fans. He wants to make new stuff that they'll appreciate instead of trying to win over a new audience.
I can see how some might feel these sentiments are tired and cliched, like the song "Ontario," which seems to say little except where he's from. It was my least favorite track at first, but then I realized that coming to terms with where you are from (and proving that it doesn't really matter if you get yourself out there in the world and work hard) is a noble suggestion.
There are a few seemingly trivial songs about pretty girls and getting high, too, but they're coming from a man who has admitted to being sober now for the first time in over 40 years!
As suggested in a recent Twitter interview with fans, Neil still loves the magic that can occur from improvising. This album certainly feels like a bare-bone live set. Even the "mistakes" — where a solo winds into a corner or bounces off a dud note — are left in, and some of the lyrics seem like casual conversation.
But at times, like on the epic track "Ramada Inn," his word usage and turn-of-phrase is exact and telling. The story of a long-married couple dealing with "alcoholic abuse" is heart breaking.
Although The Current has been playing a shortened version, "Walk Like A Giant" is also longer than 16 minutes and carries another key lyrical motif (and a killer whistling chorus!).
Neil did "walk like a giant" as a rock star through the 60s, and that kind of thing will never happen again. Now he sings about feeling like a leaf floating down the stream — a good thing if you believe in the zen idea of surrendering to life's mystery and letting go of the ego. Neil mentions meditating and paying $35 for a mantra. He's always been on a spiritual journey in his work.
But then he twists it by saying that he wants to feel like a giant again. Perhaps playing this music with the old band has done that.
I hope so — he deserves it.
Tune in this Wednesday, November 7 from 6-9 PM as we celebrate Neil Young's career by playing two songs from the bard's enormous discography every hour. Then at 9 PM we'll play the longest song from the new album in its entirety: 27 minutes of "Driftin' Back" from Psychedelic Pill!
Resources