New Hot Update - November 6, 2012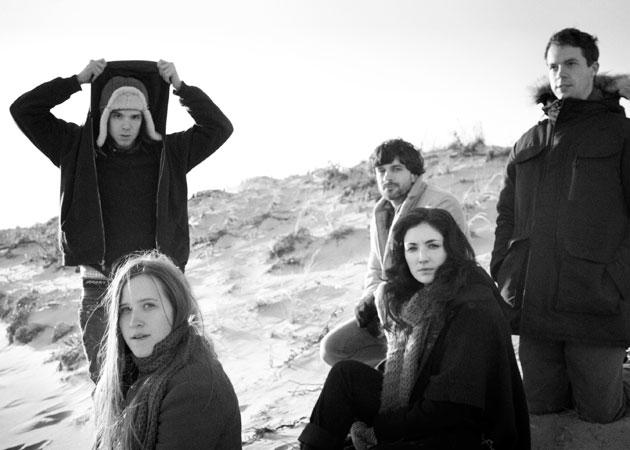 This week on New Hot, we're exploring new releases from a band on the record label started by Animal Collective, a new 12" from Beyonce's sister and a Brooklyn group who has collaborated in the past with Bjork and David Byrne.
Dirty Projectors — About To Die EP
Dirty Projectors have had a long history of freaking people out. Non-traditional arrangements, David Longstreth's sometimes hard-to-listen-to wail and odd concept albums have been the norm for this band for years. It's still what they do, but it took several years for people to get it. Starting with Bitte Orca in 2009, they saw their first breakout into the mainstream, reaching number 65 on the Billboard Charts. Swing Lo Magellan hit our ears this year, reaching number 22. Their reinvented sound is rooted in more sparse arrangements and less chaotic melodies. Now they're releasing the About To Die EP to roll us into the New Year, featuring three new songs including a tribute to TV On The Radio's Gerard Smith.
Rate, Request or Recommend this song »
Prince Rama — Top 10 Hits Of The End Of The World
Prince Rama is a sister duo known for their tribal compositions. Throughout the past few years, they've gathered a cult fanbase, aided by their signing to the Animal Collective-run Paw Tracks label. Their new album Top 10 Hits Of The End Of The World is meant to be a soundtrack for the afterlife. If "So Destroyed" is any indication with its pop hooks and crashing drums, the afterlife is going to be a dance party. The Brooklyn duo invented ten different bands that died during this apocalypse to perform ten songs that span genres from across the world. The Paw Tracks site even has promo photos and descriptions for each of the acts for you to peruse.
Rate, Request or Recommend this song »
Solange — Losing You 12"
When we think of Beyonce, it's easy to forget about the other talent in the Knowles' family. Her sister Solange has been gaining the title of indie darling as of late. Her new Losing You 12" is being released on Terrible Records, also known as the label run by Grizzly Bear's Chris Taylor. Sensing some opportunities, Florence and The Machine's producer Dev Hynes also hopped on board to help get the release in shape. "Losing You" has already been certified fresh across the sphere, so we're curious to see what Solange has up her sleeve next.
Rate, Request or Recommend this song »
Resources