Happy time-traveling thanksgiving from The Current!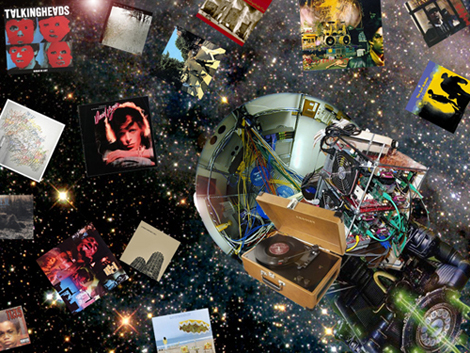 It's back again! Our Thanksgiving Time Machine Weekend has been such a success the last two years — even spawning the weekly show Time Machine Tuesdays — we've revved it back up for another long weekend of skipping and jumping warp-speed across musical history. Starting Wednesday at 4 p.m. and ending Sunday at 6 p.m., we'll be spotlighting a different year every hour, with all of your favorite Current hosts in tow. So if you tune in and make the Current your holiday weekend soundtrack, be prepared for a rock'n'roll history lesson.
Check out the time machine's itinerary below, find out who our staff would invite to Thanksgiving dinner, and let us know your favorite year from rock history in the comments! And of course, most importantly, have a happy Thanksgiving!
Wednesday
4 p.m. — 1977
5 p.m. — 1991
6 p.m. — 2007
7 p.m. — 1969
8 p.m. — 2012 (Chart Show)
9 p.m. — 1994
10 p.m. — 1972
11 p.m. — 1985
Thursday
12 a.m. — 2004
1 a.m. — 1965
2 a.m. — 1980
3 a.m. — 1998
4 a.m. — 1975
5 a.m. — 2009
6 a.m. — 1983
7 a.m. — 1963
8 a.m. — 1987
9 a.m. — 2000
10 a.m. — 1979
11 a.m. — 1992
12 p.m. — 1978
1 p.m. — 1968
2 p.m. — 1989
3 p.m. — 2008
4 p.m. — 1974
5 p.m. — 1996
6 p.m. — 2010
7 p.m. — 1967
8 p.m. — 1990
9 p.m. — 2006
10 p.m. — Transmission — 1982
11 p.m. — 1970
Friday
12 a.m. — 1993
1 a.m. — 2003
2 a.m. — 1966
3 a.m. — 1988
4 a.m. — 1999
5 a.m. — 1986
6 a.m. — 1973
7 a.m. — 2002
8 a.m. — 1984
9 a.m. — 1964
10 a.m. — 1997
11 a.m. — 1971
12 p.m. — 2005
1 p.m. — 1981
2 p.m. — 1976
3 p.m. — 1991
4 p.m. — 1972
5 p.m. — 1985
6 p.m. — 2011
7 p.m. — 1978
8 p.m. — 1998
9 p.m. — 1980
10 p.m. — 1968
11 p.m. — 2007
Saturday
12 a.m. — 1987
1 a.m. — 1994
2 a.m. — 1969
3 a.m. — 1989
4 a.m. — 1971
5 a.m. — 2001
6 a.m. — 1982
7 a.m. — 2004
8 a.m. — 1977
9 a.m. — 1984
10 a.m. — 2006
11 a.m. — 1966
12 p.m. — 1992
1 p.m. — 1979
2 p.m. — 1995
3 p.m. — 2003
4 p.m. — 1967
5 p.m. — 1990
6 p.m. — 2008
7 p.m. — 1970
8 p.m. — 1983
9 p.m. — 1993
10 p.m. — 1974
11 p.m. — Redefinition Radio
Sunday
12 a.m. — 1996
1 a.m. — 1968
2 a.m. — 1980
3 a.m. — 2009
4 a.m. — 1982
5 a.m. — 1972
6 a.m. — American Routes
7 a.m. — American Routes
8 a.m. — 2012
9 a.m. — 1969
10 a.m. — 1986
11 a.m. — 1994
12 p.m. — 1973
1 p.m. — 2005
2 p.m. — 1965
3 p.m. — 1989
4 p.m. — 1978
5 p.m. — 1995
---
comments powered by

Disqus