Top 89 Staff Picks: Jacquie Fuller, Host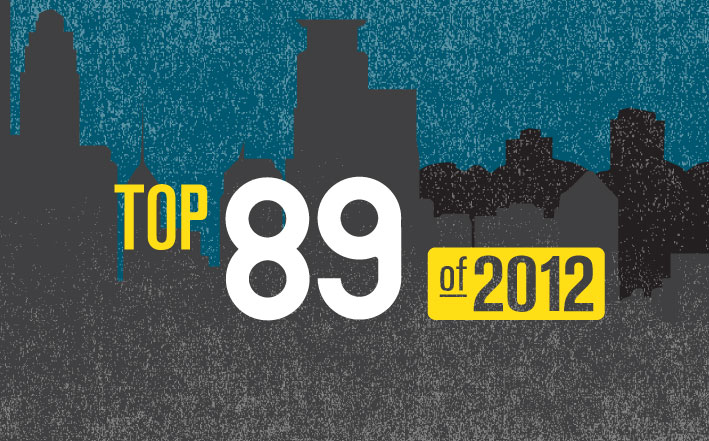 Songs
1. Father John Misty — "Nancy From Now On"
Josh Tillman's crooning falsetto soars across rolling hills of piano lit by twinkling stars. A sweet, breezy little number that socks you right in the chest with its narrative of defiant heartbreak. I couldn't get enough of this song in 2012 and I still haven't crawled out from under it.
2. Beach House — "Myth"
This was the first track I heard off of Beach House's fourth album, Bloom, and I was blown away. With Victoria Legrand's buttery tenor applied like a gauze over Alex Scally's aching guitar, this track felt bigger , lusher, and more devastating than anything I'd heard from the band. 2012 was a sad year for me, and this smoky little lullaby, on many occasions, served as a sort of salve for my heart.
3. Poliça — "Wandering Star"
Two drummers! Channy Leaneagh's auto-tuned, aquatic vocals! What is this dark magic called Poliça? You know those strange, skeletal, transparent sea creatures that live at the bottom of the deepest ocean trenches? This song is that kind of creature.
4. Rufus Wainwright — "Out of the Game"
Rufus Wainwright's clever songwriting gets gussied up for a night out in a song that's equal parts Broadway musical and 70s FM radio. This song is tender and brilliant and makes you think: Seriously, what was in the water in the Wainwright household?
5. The Tragically Hip — "At Transformation"
I want to say something really eloquent about this little scorcher of a song, but every time I listen to it I just have a Beavis-style, spastic (YES ... YES ... YESSSSS!) mini-seizure. So ... yeah.
6. Divine Fits — "Would That Not Be Nice"
Britt Daniel's Ric Ocasek-esque voice and spare, spastic songwriting get paired with Dan Boeckner's psychedelic-tinged, danceable shuffle in a very happy marriage, held together by Sam Brown's drumming. This is a Reese's Peanut Butter Cup of a song. Clearly Santa thought I was a good girl last year.
7. Bob Mould — "The Descent"
Next time you think your fifty-two-year old dad is a lame old fart, imagine your dad is Bob Mould and STAND CORRECTED, SON.
8. Now Now — "Thread"
This song asks the teenage, Tegan & Sara-listening part of my heart out to play and then hands it a flask of whiskey and a pack of smokes. It kicks ass AND makes me want to write dramatically in my journal.
9. Brother Ali — "Mourning in America"
This song would be straight-up bully pulpit if it didn't make me want to shake my ass so bad — and that right there creates such a cognitive dissonance that I don't even know what to do with this track but listen to it again.
10. Santigold — "Disparate Youth"
This track does something with the '80s resurgence I can't quite put my finger on — ita€™s as if it takes '80s new wave's appropriation of reggae and pulls the strings on it so tight it becomes a hopped up, '90s-paced, proto-dubstep of sorts. (Or something. I don't really know what I'm talking about.)
Honorable mentions:
Dark Dark Dark — "Tell Me;" Sharon Van Etten — "Serpents;" The Tallest Man on Earth — "1904;" Hacienda — "Shakedown;" Andrew Bird — "Eyeoneeye;" John Mark Nelson — Reminisce."
Albums
1. Father John Misty — Fear Fun
2. Beach House — Bloom
3. Poliça — Give You the Ghost
4. Divine Fits — A Thing Called Divine Fits
5. The Tallest Man on Earth — There's No Leaving Now
6. Andrew Bird — Break It Yourself
7. The Shins — Port of Morrow
8. Tindersticks — The Something Rain
9. Grizzly Bear — Shields
10. Spiritualized — Sweet Heart Sweet Light
Honorable mentions:
Lotus Plaza — Spooky Action at a Distance; Mount Eerie — Clear Moon; The Walkmen — Heaven; Frank Ocean — Channel Orange; Marissa Nadler — The Sister; Dirty Projectors — Swing Lo Magellan
More Top 89
Polls
Top 89 songs of 2012
Top 89 albums of 2012
Mark Wheat, Host

Mary Lucia, Host

Barb Abney, Host

Steve Seel, Host

Jill Riley, Host

Bill DeVille, Host

Jim McGuinn, Program Director

Jade Tittle, Assistant Producer & Host

David Safar, Music Director

Mac Wilson, Host

Jacquie Fuller, Host

Derrick Stevens, Production Manager

Lindsay Kimball, Assistant Program Director

Jon Schober, Local Music Assistant/Music Assistant

Brett Baldwin, Managing Digital Producer

Leah Garaas, Intern

Nate Ryan, Associate Web Producer, Multimedia

Jake Rudh, Host
Matt Perkins, Marketing Manager
Scott Olstad, Associate Web Producer
Peter Valelly, Associate Web Producer
Andrea Swensson, Local Current blogger