Top 89 Staff Picks: Jim McGuinn, Program Director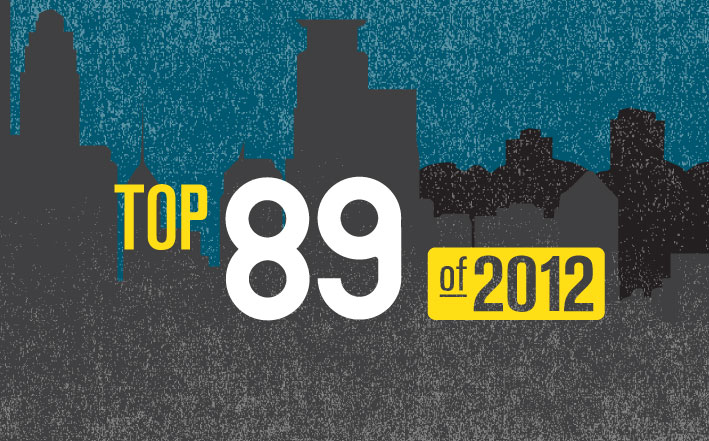 Songs
1. Frank Ocean — "Lost"
Progressive R&B? Hip Hop Soul? Whatever you call it, this song was the soundtrack of 2012 around the Current. Not a 'single' from the record label, this was the song we thought unlocked the mysteries of Channel Orange to our audience and ourselves, turning a lot of people that will likely never dig Odd Future on to Frank Ocean this year. From his courageous coming out to the brilliance of Channel Orange, Frank Ocean was a bright light in the music of the year.
2. Metric — "Breathing Underwater"
With a clutch of tracks dominating The Current's playlist and Chart Show for much of 2012, it's hard to pick a favorite from Metric's Synthetica album. But I'll go with this one, which was initially unveiled to us in a stripped down fashion at a Forum Session a few weeks before the release of their album. In a just world this would be the song that takes the band to the height of mainstream popularity, but on the other hand, it can be just be a brilliant track that keeps us loving our Canadian friends.
3. Father John Misty — "I'm Writing a Novel"
When I listen to his words and world weary delivery, I feel like he's talking to ME. I get it Father John, right on, Brother! Sassy, cynical, sardonic, and the best send up / tribute to the early '70s Laurel Canyon sound. If he tires of touring we'd have him as a DJ on The Current any day, though I doubt he'd be able to wake up to do an early morning shift.
4. J.D. McPherson — "North Side Gal"
Old School Revivalist? Sure. But also passionate and raw and real too. J.D. seems to borrow more from early '50s R&B than rockabilly, and you can feel the spirit of Little Richard and Little Willie John through his album. This tune hits you like a 5-hour Energy Drink without the nasty heart attacks. Great live show and another artist who is quickly adopting Minneapolis as a home away from home, while we're welcoming J.D. with open arms.
5. Trampled By Turtles — "Alone"
Some songs hit you like Cotton Candy - instant and sweet. Others kind of whisper to you and slowly infiltrate your brain. That's "Alone" the lead off single from this year's Stars and Satellites by Duluth's Trampled By Turtles. With some of the best lyrics of the year and a slow build into a big TbT chorus and singalong, Dave Simonet and the band released a Minnesota classic.
6. Jack White — "I'm Shakin'"
If this weren't a cover it might be my #1, so good is the version of Little Willie John's 1959 classic. Few can touch Jack's guitar work, and his mastery of the production on this, from the background vocals to the way he pronounces "nervous" as "noi-vous" it's a loving tribute and raucous update. And a song that's hard not to turn up to 11 when it comes on the radio.
7. Alt-J — "Tesselate"
What the hell is this? Impossible to pin down or describe, every year it seems like someone figures out a new way to recombine the DNA of the past 50 years into something new, and this year that honor belongs to Alt-J, the British band who won the Mercury Prize for their unique debut An Awesome Wave. Bits of dub, post-punk, new wave and indie percolating under some of the strangest sounding yet utterly compelling melodies and vocals of 2012. How do they write these songs? I have no idea, but have loved having my brain scrambled by their songs this year.
8. San Cisco — "Awkward"
Sometimes cotton candy is just what you need. Australia's San Cisco have put out the catchiest slice of indie pop in 2012, and airplay on The Current helped led to a record deal in the US that will see their debut album arrive on our shores next year. An age old tale of jealousy, stalking, and the need for someone to buzz off, somehow San Cisco's Jordi Davieson puts a fresh twist on it for a modern age.
9. YN Rich Kids — "Hot Cheetos and Takis"
I'll admit it. I'm no expert on modern salty snacks. But as someone once said, 'write (or sing) what you know.' And on the hip hop single by local Mpls school children YN Rich Kids they do just that, with a pureness and energy second to none. Picked up and forwarded around the web, the video has been seen more than 4 million times! With a refrain of "snack / snack / snack / crunch" it's no Dylan, but it's more real life and fun than anything on his album this year.
10. First Aid Kit — "Emmylou"
I'd love someone to offer to be my Emmylou or June! Not sure I should be their Gram Parsons though, given how that ended up early and tragically. Who knew that one of the best slices of Americana this year would come from two Swedish sisters, one still in her teens.
Honorable Mentions
Loads of songs that depending on what day you asked me might have made my list this year, including:
Antibalas — "Dirty Money"
Chastity Brown — "After You"
Devin — "Masochist"
Dr. John — "Revolution"
Grizzly Bear — "Sleeping Ute"
IAMDYNAMITE — "Where Will We Go"
Neil Young and Crazy Horse — "Walk Like A Giant"
Regina Spektor — "All The Rowboats"
Spiritualized — "Hey Jane"
Stars — "The Theory Of Relativity"
The Shins — "40 Mark Strasse"
The Tallest Man On Earth — "1904"
Albums
1. Dr. John — Locked Down
I don't know that I have a definitive #1 album for this year, but if I have to pull out a tie breaker to separate a few great ones, I'll go with most listened to at home, which puts the good Dr at #1 for me. Between the world weary growl, flashes of lyrical brilliance and inspired playing not only from Dr. John but also producer Dan Auerbach and his backing band, Locked Down is a joy to listen to from start to finish. Probably the best Dr John album since the '70s, the album manages to feel classic and contemporary at the same time. In an ideal world Dr. John's comeback would have put him on the cover of Rolling Stone, but instead it was only the best from a clutch of releases by veteran artists this year - but that's pretty high praise to realize that compared to Bruce, Neil, Paul, Rod, Van, etc that you're the one that's truly delivered. Dr. John is an incredible American artist and to say they broke the mold is an understatement. I'm so glad that this year he was able to deliver such a powerful album this far into his career.
2. Michael Kiwanuka — Home Again
Over the years I've wondered how an album like Van Morrison's Astral Weeks can be so elusive - the songs so simple with just a couple of chords, yet the feel nearly impossible to approach. One of the few that have come close is Michael Kiwanuka, one of the best musical finds of 2012. Out of the UK via Community, the label co-founded by Mumford and Sons' Ben Lovett, Kiwanuka has been impressing with his classically soulful vocals, guitar playing, but mostly his songs. Perhaps its his upbringing, an African growing up in a mostly white London suburb. Or his musical background, from exposure to Nirvana to backing hiphop artists before delving deeply into the classic soul of Bill Withers and Curtis Mayfield. But whatever it is, he could be one that will just keep getting better as he goes along, and for a debut effort he's already among the best of 2012.
3. Father John Misty — Fear Fun
From the fake persona singing the songs to psychedelic collage on the cover to the incredible voice and delivery, it appears the former Joshua Tillman has found his true artistic self. Already with a couple of so-so solo efforts under his belt, the former Fleet Foxes drummer struck a resonating chord with Fear Fun, which if you believe him was created by leaving the Pacific Northwest and heading south in a van with "enough mushrooms to choke a horse" and winding up trying to write a novel while living in Laurel Canyon. For all the quasi-Canyon revivalism found in a band like Edward Sharpe, with FJM the experiences detailed feel just believable and weird enough to fascinate anyone who was ever a fan of Neil Young's earlier work - both coming from a place of both openness and paranoia, drug induced weirdness and clear headed vision. Fear Fun comes on like a late-night revelation but one that actually sticks to your brain in the morning.
4. J.D. McPherson — Signs and Signifiers
Every ten or fifteen years, someone comes along to make us realize how primal, urgent, and elemental the big bang explosion that kicked off rock and roll was in the 1950s, when 'hillbilly' country and 'race' rhythm'n'blues music collided in places like Memphis and New Orleans and behind artists like Elvis Presley and Little Richard. And while totally locked into a bygone era, there's something timeless about this music too. What it lacks in the sophistication and the clever good taste of recent indie rock from Radiohead to Grizzly Bear, it more than makes up for with the wallop and simple joy of rock and roll.
5. Metric — Synthetica
Our friends from Canada come on like a modern Blondie on their latest - with big, bold production to back songs that are catchy enough for radio and still intimate enough to work at home.
6. Trampled By Turtles — Stars and Satellites
Another excellent album from our Duluth friends, who have perfected the balance between heartfelt Americana and explosive punk bluegrass. Recorded in a cabin in the northwoods, there are moments of intimate beauty, followed by the unleashed abandon when they open up and explode. The band is also maturing, and themes of family and the loneliness of the road abound. One of the biggest and best exponents of Minnesota music, their latest did not let us down in 2012.
7. Alt-J — An Awesome Wave
What is this? Who knows. Does it matter? This is the album most likely to inspire a "Love it / what the?" dichotomy in 2012, as it melds post-punk, dub, indie, and vocals that are otherworldly to bring us a new twist on our old and sometimes tired medium of rock and roll.
8. Neil Young — Psychedelic Pill
Neil doesn't care. He just does whatever he wants to do in the moment, and that's what makes him so awesome and inspiring. Put out a 27-minute song to kick off your new album? Sure! Rip some diary entries out and call them lyrics? Sure! Insist on pristine sound reproduction for your recordings, which are essentially live first takes on your new material? Sure! Back with Crazy Horse for their first studio effort in nearly a decade, the 67-year old shows he's not afraid to keep pushing his art both backwards and forwards, taking a journey that is both into his past and moving ahead. It seems it would be fun to be Neil Young these days. He's an old man following his art wherever it leads him. We should all be so lucky.
9. Jack White — Blunderbuss
I wanted this to be the album of the year for me. After 5 years of being in The Raconteurs and Dead Weather, Jack White is finally picking up where the White Stripes left off in 2007. Few can touch his guitar work or his meticulous skill at assembling rock jams out of spare riffs. And with tracks like "Love Interruption" he reached the kind of emotional heights of his best work. But despite a lot of highlights like "Freedom at 21" and "I'm Shakin'", Blunderbuss was neither the hoped for masterpiece nor an intimate and fun toss-off. Instead it was a solid first solo step for one of our generation's brightest. Here's hoping there will be more.
10. Various Artists — Twin Cities Funk and Soul
A compilation of the best songs from our scene's history of the '60s and '70s that you never knew you loved... til now. Secret Stash has been putting out killer re-issues for the past few years, and this may be their best yet - a collection of funk and soul nuggets, from TC musicians long lost to obscurity or indifference. This release has sparked a resurgence for what Black Minneapolis was like in the era before Prince, and between the exhaustively awesome liner notes and the sweaty soul dripping from the grooves within, a highlight of 2012's releases.
More Top 89
Polls
Top 89 songs of 2012
Top 89 albums of 2012
Mark Wheat, Host

Mary Lucia, Host

Barb Abney, Host

Steve Seel, Host

Jill Riley, Host

Bill DeVille, Host

Jim McGuinn, Program Director

Jade Tittle, Assistant Producer & Host

David Safar, Music Director

Mac Wilson, Host

Jacquie Fuller, Host

Derrick Stevens, Production Manager

Lindsay Kimball, Assistant Program Director

Jon Schober, Local Music Assistant/Music Assistant

Brett Baldwin, Managing Digital Producer

Leah Garaas, Intern

Nate Ryan, Associate Web Producer, Multimedia

Jake Rudh, Host
Matt Perkins, Marketing Manager
Scott Olstad, Associate Web Producer
Peter Valelly, Associate Web Producer
Andrea Swensson, Local Current blogger