Top 89 Staff Picks: Mac Wilson, Host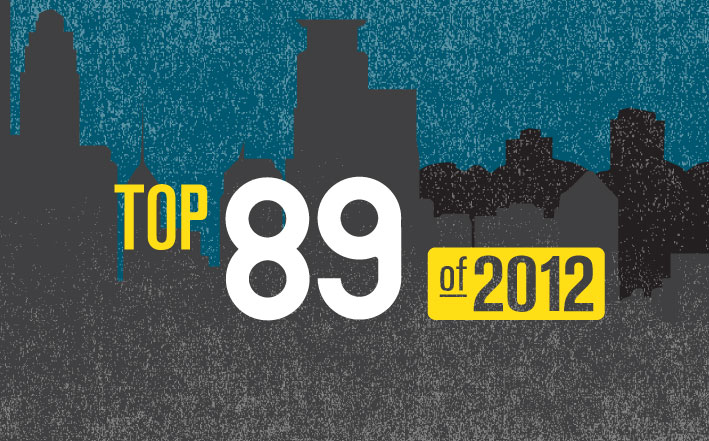 Songs
1. Sharon Van Etten — "Serpents"
I've organized these songs in an order that makes for a cohesive playlist. Van Etten drops one memorable line after another, over a musical backdrop that suggests an unceasing vortex of menace. More than a year after it first appeared, "Serpents" still haunts and disturbs.
2. First Aid Kit — "Emmylou"
One thing I try to avoid when artists visit the Current studios is to openly gush about their music to them. But when First Aid Kit visited on Easter Sunday, I found myself breaking my own rules. I told the sisters Söderberg that I appreciated the way they incorporated the evocative relationships between Emmylou [Harris] and Gram [Parsons] and June [Carter Cash] and Johnny [Cash] into song, adding at the end, "I don't really have a question, I just wanted to tell you that." They replied, "Thank you."
3. Best Coast — "The Only Place"
No one ever said that stupid music can't also be great music. In the grand tradition of stupid songs like Ramones' "I Wanna Be Sedated" and R.E.M.'s "Stand," "The Only Place" drills home a handful of simple, repetitive lyrics that sparked my friend to compare it to the late Wesley Willis. Unlike Ramones and R.E.M., Best Coast aren't a great band; they may not even be a good band. But in its own vacuum, "The Only Place" is so spectacularly — and stupidly — catchy, it becomes endearing. In Best Coast's ad for Windows 8, there is a shot of Bethany Cosentino updating her status, which we see reads, "We always have fun!", which is just PERFECT.
4. The Pains of Being Pure at Heart — "Jeremy" (The Magnetic Fields cover)
My long-standing frustration with the Magnetic Fields is that by stripping their songs down in a live setting, they lose a multitude of wonderful hooks from the original recordings. The Pains' cover of this early MF deep cut reverses all these wrongs, transforming the song into an uptempo, guitar-driven anthem that manages to still do justice to — and even exceed — the original. To hear the Pains' version is to hear an alternate reality in which Stephin Merritt and Mac MacCaughan merged (heh) bodies in 1994 to become the most rocking, yet poignant band in indie rock. Speaking of Mac...
5. Superchunk — "This Summer"
2012 saw an explosion of artists attempting to maximize the saving power of rawk while also capitalizing on aging Gen-Xers who long for the early '90s incarnations of Lollapalooza. Bands like Japandroids, Cloud Nothings, and the Men became the rock critic's sound du jour, and yet it was the elder statesmen (and stateswoman) of Superchunk who served up the most trenchant rock song of the year. I'm still not fully sure whether this song takes place in the past, the present, or the future, but its lyrics and unbearably bittersweet melody suggest both profound nostalgia and a hope for summers to come.
6. Passion Pit — "Take a Walk"
Michael Angelakos opened his sophomore album with this epic about an immigrant struggling to find his footing, only to keep stumbling into one bad situation after another. At first glance it feels at odds with the rest of the album, which delves into deeply personal psychological examinations of Angelakos' own mental health. Looking closer, though, a tale of a man out of place in an intimidating new world might be a rather effective metaphor for jumping into the music business, only to find obstacles at every turn.
7. Beach House — "Lazuli"
The first time I heard this song, I knew it was one of the very best of the year, and ultimately, one of the most beautiful. Along with the rest of the Bloom album, this is what Beach House have been building up to for their entire career, to stunning effect.
8. Purity Ring — "Lofticries"
The band's dark slant on electro-goth pop is replete with images of body horror, exuding a distinct David Cronenberg Presents...GOLDFRAPP vibe. Vocalist Megan Smith's vocals are alternately endearingly precious and grotesquely distorted, adding up to a rivetingly addictive track that I couldn't stop playing.
9. The xx — "Angels"
I guess some people could call the xx's measured minimalism "boring," but how could anything this sparsely beautiful be considered boring? I'm totally on board with this band's experiments in stripped-down sounds, giving me hope that their signature sound will continue to manifest itself in creative ways.
10. Stars — "Hold On When You Get Love and Let Go When You Give It"
A glorious anthem that stands as a career peak for a band with no shortage of anthems to date. It's even possible to overlook Torquil Campbell's occasionally self-pitying words, especially when they're offset by an explosive chorus that urges the world to simply, always, love.
Honorable mentions:
I took a page from Rhino's remasters of the Elvis Costello albums and provided an Honorable Mentions bonus disc that's lengthier than the original.
Walk the Moon — "Anna Sun"; Sleigh Bells — "Comeback Kid"; Tame Impala — "Elephant"; The Rolling Stones — "Doom and Gloom"; Jack White — "Freedom at 21"; Dream Brother feat. Paul Sprangers — "Haunted Heart"; The Walkmen — "Heartbreaker"; Zoo Animal — "Black and Charred"; Cat Power — "Cherokee"; Poliça — "Dark Star"; Father John Misty — "Nancy from Now On"; Jens Lekman — "I Know What Love Isn't"
Albums
1. Tame Impala — Lonerism
2. Beach House — Bloom
3. Lotus Plaza — Spooky Action at a Distance
4. Bat for Lashes — The Haunted Man
5. Hot Chip — In Our Heads
6. Cat Power — Sun
7. Jack White — Blunderbuss
8. Sleigh Bells — Reign of Terror
9. Passion Pit — Gossamer
10. Jens Lekman — I Know What Love Isn't
More Top 89
Polls
Top 89 songs of 2012
Top 89 albums of 2012
Mark Wheat, Host

Mary Lucia, Host

Barb Abney, Host

Steve Seel, Host

Jill Riley, Host

Bill DeVille, Host

Jim McGuinn, Program Director

Jade Tittle, Assistant Producer & Host

David Safar, Music Director

Mac Wilson, Host

Jacquie Fuller, Host

Derrick Stevens, Production Manager

Lindsay Kimball, Assistant Program Director

Jon Schober, Local Music Assistant/Music Assistant

Brett Baldwin, Managing Digital Producer

Leah Garaas, Intern

Nate Ryan, Associate Web Producer, Multimedia

Jake Rudh, Host
Matt Perkins, Marketing Manager
Scott Olstad, Associate Web Producer
Peter Valelly, Associate Web Producer
Andrea Swensson, Local Current blogger