Michael Jackson's 'Thriller' turns 30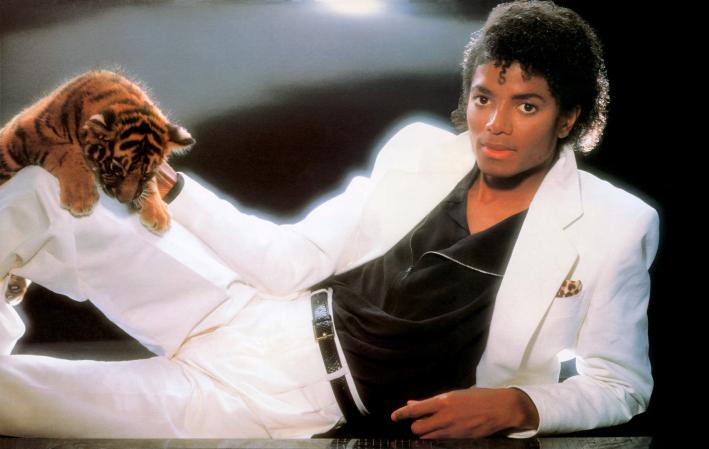 On Nov. 30, 1982, Michael Jackson released Thriller, an album that took the world by storm. Because Thriller comprises nine tracks, here are nine interesting facts about the album as it celebrates its 30th anniversary.
#9 Global Smash
Thriller sold 40 million copies in its initial chart run, and seven of its nine tracks reached the U.S. Billboard top ten. In 1983, Thriller hit number one in the album charts for the U.S., U.K., Canada, Australia, France, the Netherlands, Italy, Austria and Japan; it repeated as the number-one album in the U.S. and Japan for 1984. To date, Thriller has sold more than 110 million copies worldwide, and, abetted by digital downloads, the album and its singles continue charting to this day.
#8 Iconic Producer
Thriller was produced by Quincy Jones, whose work as a record producer, musical arranger, film composer, impresario, conductor and trumpeter spans multiple genres. Among Jones's songwriting credits is the instrumental piece "Soul Bossa Nova", released in 1962. "Soul Bossa Nova" enjoyed a resurgence in popularity after its inclusion in Rhino Records' Cocktail Mix vol. 2 compilation (1996) and in the film Austin Powers (1997).

#7 Breaking Barriers
The first single from Thriller, "The Girl is Mine" -- a duet sung by Michael Jackson and Paul McCartney -- was released six weeks prior to the album and peaked at number two in the U.S. Billboard Hot 100. Meanwhile, the guitar solo on "Beat It" was performed by Eddie Van Halen, who was rocking the global charts in his own right with his fittingly titled album, 1984. The Los Angeles Times has reported that these collaborations, coupled with Thriller's widespread success, helped break down racial barriers that existed on radio and on MTV at the time.
#6 Wide Influences
The track "Wanna Be Startin' Somethin' " concludes with the rousing refrain Ma ma se / ma ma sa / ma ma coo sa. Michael Jackson borrowed and adapted this refrain from the song "Soul Makossa", a 1972 hit single by Cameroonian saxophonist Manu Dibango. The syllables are wordplay of makossa, a jazzy type of dance music popular in Cameroon. The reference further exemplifies Jackson's wide range of musical knowledge and influences.
#5 Film Director
Music videos played a significant role in Thriller's success. As described in Spike Lee's recent documentary about the 25th anniversary of Jackson's album Bad, Jackson preferred to approach his videos as short films. The video for the song "Thriller", for example, has a run time of almost 14 minutes, compared to the album track run time of just under six minutes. The director of the "Thriller" short film was John Landis, whose credits up to that time included Animal House (1978), The Blues Brothers (1980) and significantly to the song, An American Werewolf in London (1981). Here is the complete "Thriller" short film:
#4 Eerie Rap
"Thriller" songwriter Rod Temperton wanted the spoken-word section of the song to be recorded by an actor famous for work in horror films. Peggy Lipton, then-wife of Quincy Jones, suggested Vincent Price, who rose to fame through his various roles in '50s and '60s horror flicks. Price accepted the role and is credited in the album's liner notes as a rapper rather than as a spoken-word artist.
#3 Family Ties
Michael Jackson's sisters LaToya and Janet provided backing vocals on the track "P.Y.T. (Pretty Young Thing)" along with Becky Lopez and Bunny Hull. "P.Y.T." guitarist Paul Jackson, Jr., (also heard on "Beat It" and "The Lady in My Life") is not related.
#2 Freelance Hitmaker
In addition to his seven top-ten singles from Thriller, Michael Jackson sang in two non-Thriller songs that also made the top ten during the same period. In October 1983, Jackson and McCartney released another duet, "Say Say Say", which reached number one in the U.S. Billboard Hot 100 in December of that year and held the position for six weeks. Later, Jackson sang the chorus in Rockwell's hit single, "Somebody's Watching Me", which peaked at number two in the U.S. Billboard Hot 100 in March 1984.
#1 Redefining Pop
"Michael Jackson was really an innovator in the industry," says Dr. Dwan Reece, Curator of Music and Performing Arts at the Smithsonian Institution's National Museum of African American History and Culture. Reece explains that Jackson's keen artistic sense, his musicality and his embrace of a new medium -- the music video -- completely changed pop music with Thriller. "It was a new way to really be an artist in the music industry that hadn't been done before. He wasn't just a musician -- he was an entertainer. Those are really two different things. He had the talent -- and the music was great."
What significance does Thriller hold for you? Share your thoughts below.
2 Photos
Collaboration with Sir Paul McCartney.

(Album art

)

Promotional poster for "The Raven" starring Vincent Price.

(Promotional poster

)
View 1 more photos
---
comments powered by

Disqus