Ryan Lewis talks "Same Love" and much more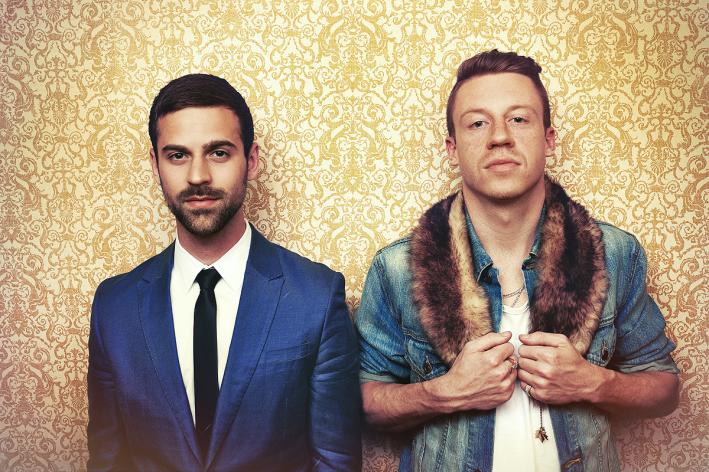 Rapper-and-producer duo Macklemore and Ryan Lewis' "Same Love" has become one of the most requested, discussed and admired songs The Current has played in 2012, ultimately landing on several hosts' Top 10 lists. A stark discussion of homophobia within hip-hop, the track has stirred controversy nationwide — for example, earlier this week a Michigan teacher was suspended for allowing a student to play the song in class.
The hip-hop duo is in town for two sold-out shows at First Avenue on Friday, November 30 and Saturday, December 1. On the eve of the show, I caught up with Ryan Lewis over the phone to talk about "Same Love," the group's new album The Heist, his role as a producer and much more.
To start off, I'd like to hear a little about how you got started as a musician and as a producer.
Well Ben [Haggerty, a.k.a. Macklemore] and I first connected around 2006 on MySpace. For two or three years we were just friends. We did a little bit of music together in that time period, but I actually did more photography for him at first. And then after he went to rehab in 2008, we thought we would do a quick project, like a mixtape essentially, and that turned into nine months and became the VS. EP. Then we got a music studio together in 2009, and I've been working together with him on a day-to-day basis ever since.
In terms of my job, I do all the music. You know, a lot of people make beats and then sell them, but with us, the music can come out any way. [Macklemore] can write a song and I could write music to that, or I could make music and then he'll write lyrics to that. I do the music, I record him, I engineer musicians, I mix it all, which takes forever. And then I do a lot of the visual stuff, the graphic design that goes into our aesthetic. I did a lot of photography in the beginning, although now we've done more collaborations with other photographers. I've directed and edited most of our music videos. So I wear a wide variety of hats, as does Ben.
The album that the two of you just put out, The Heist, which has been immensely successful, debuting at #2 on the Billboard albums chart and #2 on the hip-hop albums chart. Tell me about how you approached that album and how you're dealing with the reception of it.
I think we've taken a unique approach leading up to the album. We've only put out five songs since the VS. EP, which is really ass-backwards from how the hip-hop industry kind of operates now. Artists do two mixtapes surrounding an album. It's quantity over quality. But we've worked for three years on this album, and none of us had any expectation anywhere close as to what it would do first week. It's been a huge step forward for us. And I think it's just exciting for the music industry in general to see what can be done independently. From the first-week sales to [lead single] "Thrift Shop" getting worldwide radio play at this point, we've had all these different things happen that, I think, when you're growing up as a musician aren't usually afforded you unless you sign a deal.
Let's talk about that a little bit more, specifically how it relates to the role of the Internet in promoting and circulating independent music. What has your experience been with both the good and bad sides of that?
As a producer, the transition of technology in the past 5-10 years has been fascinating to watch, and I think it goes beyond being making hip-hop. If you want to be a photographer now, in terms of the affordability and accessibility of having a tool set that would allow you to do that, it's extremely easy. If you want to be a producer now, the ability to get yourself a little set-up and pursue that and become a producer is easier now more than ever.
Social media takes it a step further. MySpace was one of the dominant first tools as an artist to gain a fanbase completely on your own, alongside YouTube. MySpace back in the day had a play count of your total plays, and I think for a very competitive genre like hip-hop it became this strong gauge as to somebody's crediblity. If you had a good amount of plays, that could open up doors for you in terms of who's willing to associate with you or work with you. YouTube is obviously the same way. Now, MySpace has gone away, but Twitter operates pretty similarly since you have an amount of followers, people are verified or not verified, things like that.
So that's an artist-to-artist perspective. And I think in terms of an artist-to-fan perspective, Twitter gives you the ability to build a fairly interpersonal relationship with your fans far beyond what you could do before the Internet. I think it's this big telecommunications shift that has largely worked in independent artists' favor — if you have good music and if you're smart and you know how marketing works. In terms of the downside, it's also created an extremely oversaturated business. There's hella photographers and hella rappers -- you know what I mean? As a music listener, you have access to anything and you're getting bombarded. I think to try to try and emerge out of that, even if you're a great musician, can become an art in itself. You have to wrap your head around the question, "How do I separate myself?"
So it's been interesting. It's obviously an absolutely enormous piece of our story because we came up in the midst of all that and we did a really good job. We get asked this question almost every interview, essentially: "You sold almost 80,000 records. How did you do it?" To me, I think it all comes back to like... we made a good album, and obviously an album that really connects with people, and that's what music is about: connecting with people.
So talking about connecting with people, we definitely have to talk about "Same Love," which we've been playing on the station for a couple of months now, and the reaction from our listeners has been enormous. How did that song come about, and what has the reaction been like from your perspective?
"Same Love," you know, part of it comes out of Ben's story. He wrote "Same Love" back in April, and he tried to write it for a long time, trying to figure out how he could say what he wanted to say. He's somebody who's been a hip-hop head forever and comes out of, you know, the #1 genre that is just heavily saturated with homphobia, and you have huge hit records that are still using homophobic language and it gets the pass. It's one of the few things that still gets the pass. And I think he wrote "Same Love" from his perspective, coming out of that community and also coming out of the Catholic church which is also classically fairly homophobic. That in combination with the fact that I live on [the Seattle neighborhood] Capitol Hill, he grew up on Capitol Hill. We live in a community with gay friends, in a heavily populated gay community.
He wrote the song, and I thought it was very true to just observing what's going on through his eyes. And I took it and tried to figure out musically what was gonna be the right tone for it underneath. We made it, and it felt kinda bold putting out, because you don't know how people are going to respond, but it's been overwhelmingly positive, and it's been exciting and inspiring. We put out the record, and then worked hard on a music video that would makes sense for it, and we got a great response on that.
Now, you know, we're in the middle of tour, and it's kind of full circle. It's like, we're going to places that are known for being conservative, the Texases and Idahos, and wherever we go we see a whole new generation of young people, of new thinkers, singing that chorus as loud as they can. It hasn't wavered from city to city, really, across the world. So that's just been extremely exciting, and it's felt important, and I think Referendum 74 in Washington was an enormous victory, and I think it's been an extremely important song.
Outside of your work with Macklemore, what else do you have going on these days and looking ahead into 2013? Who else are you doing production for and what other projects are on your plate these days?
You know what? I'm getting off tour in mid-December, and I'm gonna spend some time with my family. And we really haven't taken a break since... the last tour! A year ago. So I'm gonna take a break for a bit. And then, you know, [our studio] has been the same tiny little spot at this point that we got years back, so I'm excited to get back to Seattle and move into a different studio and hopefully getting a new toolset and building a new environment for the next set of projects.
Of course I'm going to get back in the studio with Ben and we'll be working together on our next project. I'm not sure if that'll end up being an EP or a full-length. We're just gonna kinda go for it and see how that turns out. I'm also going to do an EP with Ray Dalton, who sings the chorus on the track "Can't Hold Us." We've always thought that he's absolutely amazing and he should be a star, and I'm finally arriving at the place where I can finally invest in a project with him. His record is not gonna be a hip-hop album, which is exciting to me.
Since the album's come out I've been hit up by people who are interested in getting production or working with me as an artist for various things, and I'll probably do a little bit of that. As will Ben — I'm sure he'll do some features in the first half of next year. But you know, ultimately, my focus will be on collaborating with Ben and working towards whatever comes next and diversifying a little bit, too.
Related Stories