The top in-studios of 2012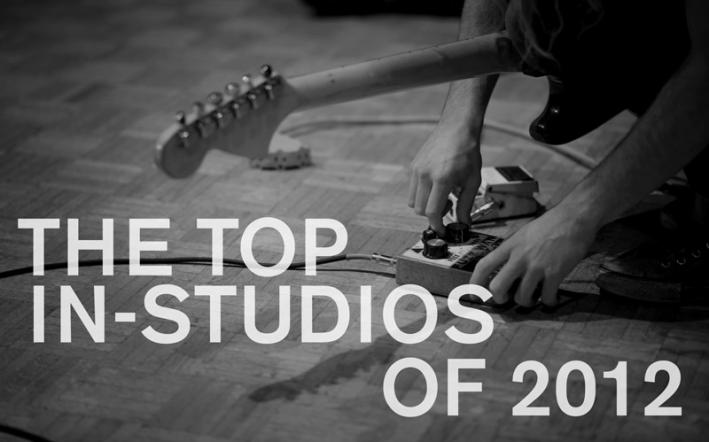 2012 was a fascinating year jam-packed with great music from new voices as well as established acts. As usual, The Current had the pleasure of hosting many of these great bands and musicians in our studios throughout the year for performances and interviews. Over the last twelve months, we have welcomed to our airwaves (and into our in-studio archive) many of the most thrilling performances we've featured in our nearly eight years on-air.
It's always hard to look back and see what musical moments defined an entire year, but we're taking a crack at it. We've dug around and taken a look at what in-studios interested you the most — which features you read and videos you watched more than any others. Here, for your enjoyment, are The Current's top 10 in-studios of 2012 (many of them featuring terrific video and photography from Nate Ryan).
Over the course of 2012, Lana Del Rey weathered an epic tug-of-war between hype and backlash and a seemingly endless public debate over her authenticity, ultimately emerging as both one of the year's most controversial figures and one of music's most successful and enduring new voices.
After selling nearly three million copies of her major label debut Born to Die worldwide and making an indelible cultural imprint with her infectious single "Video Games," she returned last month with the release of the much-lauded Paradise EP. In March, at the height of LDR fever, the singer stopped by The Current for a session and interview with Steve Seel that became our most-heard in-studio performance of the year.
This Icelandic folk-rock/pop sextet delivered an unexpected indie smash this spring with their single "Little Talks" becoming a Current staple and eventually breaking through to more mainstream airplay. Their debut full-length album My Head is an Animal debuted in the Billboard top 10 upon its official US release in April, and just weeks earlier, the group stopped by The Current studios for a lovely performance hosted by The Morning Show's Jill Riley.
When Conor Oberst came through town for a very special stripped-down solo performance at the Fitzgerald Theater to launch our new concert series The Current Sessions, he also made a stop into our studios to chat with Mark Wheat and play a few songs. Little did we know he'd be debuting a new track, the lovely "You Are Your Mother's Child"!
Duluth punk-bluegrass quintet Trampled by Turtles had a huge year, releasing their sixth full-length Stars and Satellites to acclaim and success, reaching a new audience with stops on multiple late-night shows, and hectically traversing the summer festival scene (including, of course, a rapturously received set at Rock the Garden 2012). Right at the dawn of this journey, the band joined Mary Lucia in the studio for a stellar performance, including a lovely and meandering take on single "Alone."
Denver-based Americana rockers The Lumineers had an astonishing rise to fame over the last twelve months, with their single "Ho Hey" becoming one of the year's most beloved tunes after first seizing indie airplay and then skyrocketing onto the Billboard charts. Their self-titled debut was well-received by critics and continues to sell well in the US and UK, and the band sold out every tourdate they played in 2012. Back in April, they swung through town and stopped in The Current studios for a performance and an interview with Mark Wheat.
Singer Lissie, whose powerful voice and gift for songwriting made her 2010 debut Catching a Tiger one of that year's indie breakouts, and her late-2011 EP Covered Up With Flowers spawned a minor hit this year with her Fleetwood Mac cover "Go Your Own Way" (by all accounts, a new full-length is likely at some point in 2013). On her session with recorded for the Morning Show this summer, the singer shows off her commanding vocal prowess.
18-year-old local singer-songwriter John Mark Nelson crafted some of the year's most beguiling, nuanced and lovely indie-pop, in particular the catchy, lulling single "Reminisce." He won accolades with his debut album Waiting and Waiting, and The Current audience certainly seems to have developed a special bond with him — his July Local Show session was our most-viewed performance from a Twin Cities band all year!
We get our fair share of living legends coming through The Current studios from time to time, but it was hard to match the palpable excitement that spread throughout the office when John Lydon and his band Public Image Ltd. came into the studio for a performance and interview with Mary Lucia. The onetime Sex Pistols frontman did not disappoint, careening brilliantly and energetically through a handful of songs and delivering one of 2012's most memorable sessions.
Canadian quartet Metric have become one of their country's most popular and respected recent musical exports, having established a rep as rock-solid purveyors of thoughtful, engrossing indie pop and rock. Their fifth album, Synthetica, features some of lead singer Emily Haines' best and most impassioned and nuanced songwriting ever, and the rest of the band is firing full force, crafting rhythmic and elaborately hooky tunes that rank among the best of the year. Haines and guitarist James Shaw played a special, stripped-down session for some lucky fans in the UBS Forum at the Current's headquarters that surely ranks as one of the best performances featured on The Current this year.
Erstwhile Fleet Foxes drummer J. Tillman debuted his Father John Misty moniker this year, after years of releasing solo folk-rock under his own name. Fear Fun, released in April on Sub Pop, is a particular favorite of The Current staff, landing atop many of our year-end lists, and it's not hard to see why in light of the smart, funny, and richly emotional lyricism displayed on tunes like "Hollywood Forever Cemetary Sings." Shortly after the album's release, Tillman came through the Twin Cities and stopped at our studios for a great session with Mark Wheat.