The 2012 New Standards Holiday Show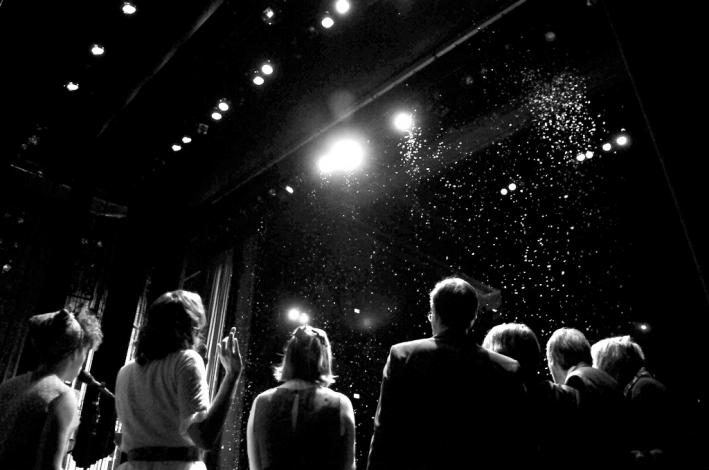 The New Standards Holiday Show has become a staple of the Holiday season in the Twin Cities, and The Current is thrilled to share their 2012 performance with you. As always, the show is a mix of holiday classics and unexpected takes on recent favorites.
The show will be broadcast on Monday, December 24, 2012 at 8 p.m. and Tuesday, December 25, 2012 at 8 a.m. Enjoy audio, a playlist and a slideshow of photos from the event (taken by Steven Cohen) here on the web.
Playlist
1. Silent Night (Aby Wolf)
2. Ghost Riders in the Sky (Jeremy Messersmith)
3. I Scare Myself (John)
4. Sunday Morning Coming Down (Chan)
5. The Bells (Mike Doughty)
6. After You (Chastity Brown)
7. Christmas Times A Comin' (The Cactus Blossoms)
8. God Rest Ye Merry Gentlemen (Chan)
9. I've Got My Love (Arne Fogel)
10. A Fairy Tale of New York (Janey Winterbauer & Chan)
11. Holiday (Mike Doughty)
12. Snow Days (John)
13. Christmas Time Next Year (Chan & John)
Related Stories
14 Photos
The New Standards 2012 Holiday Show

(Steven Cohen

)

The New Standards 2012 Holiday Show

(Steven Cohen

)

The New Standards 2012 Holiday Show

(Steven Cohen

)

The New Standards 2012 Holiday Show

(Steven Cohen

)

The New Standards 2012 Holiday Show

(Steven Cohen

)

The New Standards 2012 Holiday Show

(Steven Cohen

)

The New Standards 2012 Holiday Show

(Steven Cohen

)

The New Standards 2012 Holiday Show

(Steven Cohen

)

The New Standards 2012 Holiday Show

(Steven Cohen

)

The New Standards 2012 Holiday Show

(Steven Cohen

)

The New Standards 2012 Holiday Show

(Steven Cohen

)

The New Standards 2012 Holiday Show

(Steven Cohen

)

The New Standards 2012 Holiday Show

(Steven Cohen

)

The New Standards 2012 Holiday Show

(Steven Cohen

)
View 13 more photos