The Current's Birthday Party on film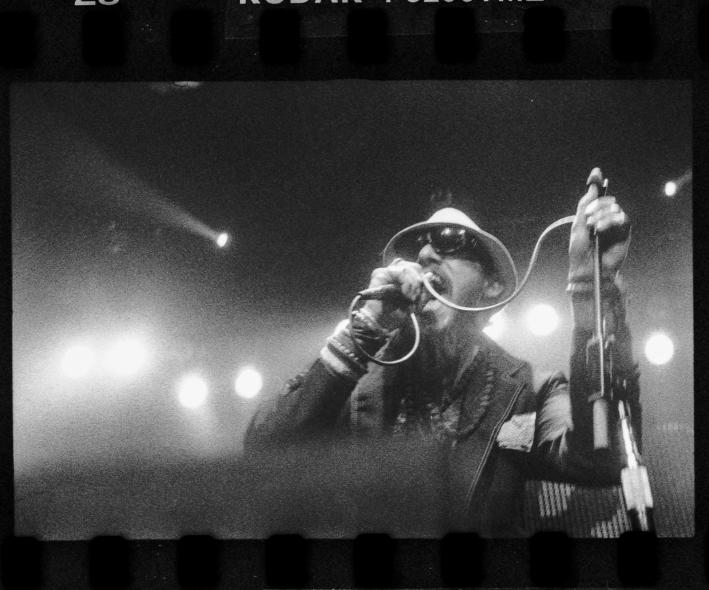 Sometimes film cameras capture a little something extra... while shooting The Current's 8th Birthday party, Photographer Nate Ryan tried his 80-year-old Leica too.
I shot The Current's Birthday party on Friday night with two cameras. In addition to the standard digital camera and zoom lenses I carry, I also carried a 1933 Leica III.
There is something wonderful about the slightly soft nature of the images from the camera. Using 3200 ISO black and white film, I was able to just have enough light to shoot in First Ave without a flash.
The high speed film results in very grainy images, and there is a connection inherent in the material to old iconic images of rock and roll shot similarly.
Additionally, in a day where it is easy to snap away at 5 frames a second, to shoot only 36 exposures over an entire night really slows the pace of shooting down and each frame is much more carefully considered.
--Nate Ryan
(follow Nate on Twitter: @nateryanphoto)
Resources
Related Stories
15 Photos
Gabriel Douglas of The 4onthefloor

(MPR Photo / Nate Ryan

)

Gabe Douglas

(MPR Photo / Nate ryan

)

James Gould of 4onthefloor

(MPR Photo / Nate Ryan

)

The 4onthefloor

(MPR Photo / Nate Ryan

)

The Valdons

(MPR Photo / Nate Ryan

)

Grace Keating, playing guitar for John Mark Nelson

(MPR Photo / Nate Ryan

)

John Mark Nelson Bassist Benjamin Kelly

(MPR Photo / Nate Ryan

)

John Mark Nelson

(MPR Photo / Nate Ryan

)

Chastity Brown

(MPR Photo / Nate Ryan

)

Fancy Ray

(MPR Photo / Nate Ryan

)

Chastity Brown

(MPR Photo / Nate Ryan

)

Willie Walker

(MPR Photo / Nate Ryan

)

The Valdons

(MPR Photo / Nate Ryan

)

Chastity Brown

(MPR Photo / Nate Ryan

)

Gabe Douglas from 4onthefloor closes out the night

(MPR Photo / Nate Ryan

)
View 14 more photos