Today in Music History: Tommy Ramone is Still Alive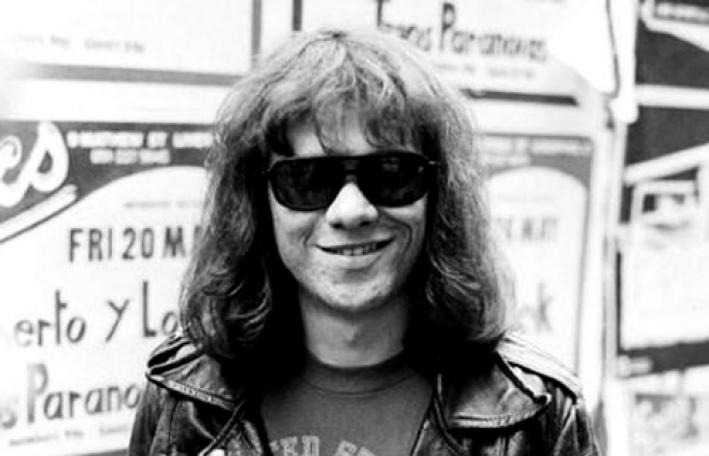 Birthday Highlight:
Tommy Ramone (born Thomas Erdelyi), the drummer and only surviving member of the original quartet, is 61 today. Tommy served as the band's manager throughout much of their career, and was also considered the most "normal" and "together" person in the band (Dee Dee Ramone expressed envy and resentment at Tommy's ability to do normal things like "cook himself dinner"). In his second career as producer, Tommy produced The Replacements' major label debut, Tim.
Also, Today In:
1961 - Bob Dylan achieved his dream of meeting his idol Woody Guthrie, when Guthrie was on weekend release from the hospital where he was being treated for Huntington's Chorea. Dylan told him; "I was a Woody Guthrie jukebox." Guthrie gave Dylan a card which said: "I ain't dead yet."
1967 - Jimi Hendrix and The Who appeared at The Saville Theatre, London, England. 20 year-old future Queen guitarist Brian May was in the audience.
1979 - 16-year-old Brenda Spencer killed two people and wounded nine others when she fired from her house across the street onto the entrance of San Diego's Grover Cleveland Elementary School. Spencer fired the shot's from a .22-caliber rifle her father had given her for Christmas. When asked why she did it, she answered, "I don't like Mondays." The Boomtown Rats went on to write and recorded a song based on the event.
1992 - American blues singer and guitarist Willie Dixon died of heart failure.
1998 - Paul Simon's musical The Capeman opened in New York.
---
comments powered by

Disqus