Where will we find the next Otis Redding?

For Black History Month 2013, The Current is spotlighting a different legendary African-American musician each week. This week, we're featuring soul legend Otis Redding. Tune in to hear tracks from his catalog throughout the week, and visit to the website for more features about his career.
The story of Otis Redding's tragically short career reveals a dramatically different experience for young artists trying to make it in the '60s. If a young Otis Redding tried to break into the industry today, he would find the path to fame offers a range of new avenues.
The American Idol Circuit
Redding caught his first break in 1958 while performing on "The Teenage Party," a weekly music contest broadcast on the radio. It was at these contests that Otis began his influential musical partnership with blues guitarist Johnny Jenkins. The duo won the $5 singing contests for 15 consecutive weeks, and Redding earned invitations to play with Pat T. Cake and the Mighty Panthers as well as the Upsetters.
Today, musical competitions have never been more popular. Shows like American Idol, The Voice and X Factor offer unknown amateur musicians the promise of being discovered on the merit of their raw talent. It isn't hard to imagine a young Otis Redding captivating the world with a heartfelt performance on one of these competitions much like Susan Boyle did in her 2009 Britain's Got Talent performance. That performance, which has been viewed 117 million times on YouTube, launched Boyle's career.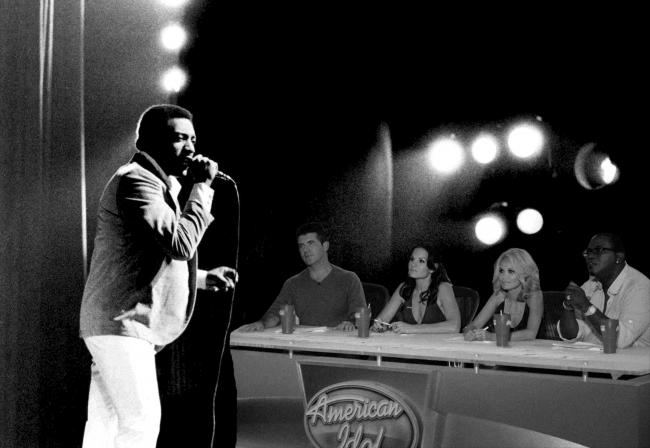 YouTube & Social media (Bandcamp, Facebook, Twitter, MySpace)
Exposure was much harder to attain for young black musicians in the '60s. Black entertainers were largely limited to touring the "chitlin' circuit" — the name given to a string of venues in the eastern and southern U.S. that were safe for black performers — and making a record required money and connections. The genesis of Redding's recording career is a tale of being in the right place at the right time.
In addition to playing with Jenkins, Redding was also his driver (Jenkins had no license). During a recording session in 1962, Jenkins left 40 minutes of studio time unused. Redding used this extra time to record the ballad "These Arms of Mine," which impressed Jim Stewart, the studio chief and co-founder of Stax Records. Steward signed Redding and "These Arms of Mine" sold more than 800,000 copies.
Today, a combination of cheap equipment and digital applications has produced a D.I.Y. recording culture where the cost-of-entry to record and share music is almost non-existent. The rags-to-riches tale of using social media and YouTube to gain a viral following is perhaps best exemplified by pop megastar Justin Bieber. Before he was a platinum-selling recording artist, Bieber was simply a 12-year-old kid, singing R&B covers and posting the videos to YouTube. His future manager discovered him and the rest is history. Otis Redding and Justin Bieber seemingly don't share a lot in common, but both artists started their careers by winning music competitions by singing R&B songs as teenagers. The difference is that Otis had to continue touring to expose that talent, while Bieber simply uploaded his performance to YouTube.
[video embed]

Kickstarter
When Redding began recording his live album T'Ain't Nothin' To Me in 1963, Otis and the band were paid $400 per week. Unfortunately, they also had to pay $450 to King Curtis's band for arrangement sheets, leaving them broke. The group was forced to ask their management for more money. Soul singer Ben E. King (singer and co-composer of "Stand by Me") gave Otis $100 when he heard about his situation.
In 2013, Ben E. King would likely have donated that $100 ($750 when adjusted for inflation) through Kickstarter. After several hit singles and years of playing gigs in other bands, Redding developed a network of friends and fans that would have gladly crowdfunded T'Ain't Nothin' To Me if given the opportunity.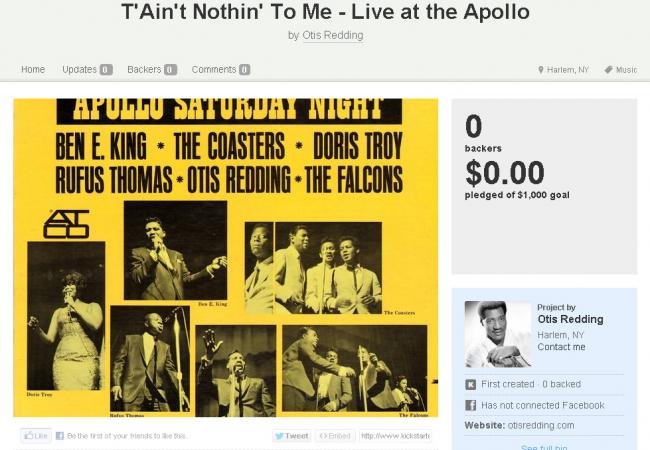 The Current
Unfortunately, The Current wasn't around in the '60s, but if Otis Redding were touring today, we would have him here for an in-studio before you could say "Mr. Pitiful." Radio stations showcased musicians in the '60s, but without internet radio or stronger transmitters, those broadcasts were limited in exposure.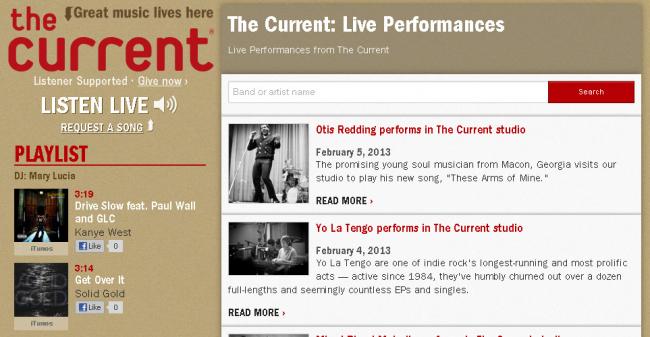 Music Festivals
The Monterey Pop Festival, which featured artists like The Who, Jimi Hendrix and Janis Joplin, is considered by many to be the first real rock festival and was responsible for launching the careers of several influential artists. Redding's 1967 performance at the festival is considered his last major concert — and one of his greatest. Until that point, Otis was still mainly performing for black crowds, and the festival was viewed as a way for him to increase his exposure to new audiences. It worked, not only did Redding receive a overwhelmingly positive response from the crowd, but also from fellow musicians Brian Jones and Jimi Hendrix.
Fifty years later, there are dozens of annual rock festivals across the country and Coachella, Lollapalooza and Bonnaroo are household names for music fans. These massive festivals showcase hundreds of bands and are an important resource for artists to find new audiences. It's tough to watch footage of Redding's unforgettable Monterey set and not imagine a magical Otis Redding nighttime performance at Rock the Garden 2013.
[video embed]

Check back all month as The Current honors legendary black musicians, and make sure you check out Say It Loud, our Black History Month stream.
3 Photos
Even Simon couldn't give Otis Redding a negative review.

(MPR

)

Otis Redding could have used Kickstarter to fund the recording of "T'Aint Nothin' To Me."

(MPR

)

If Otis Redding were a rising musician in 2013, The Current would quickly invite him to perform in our studio.

(MPR

)
View 2 more photos