Black History Month featured artist: Jimi Hendrix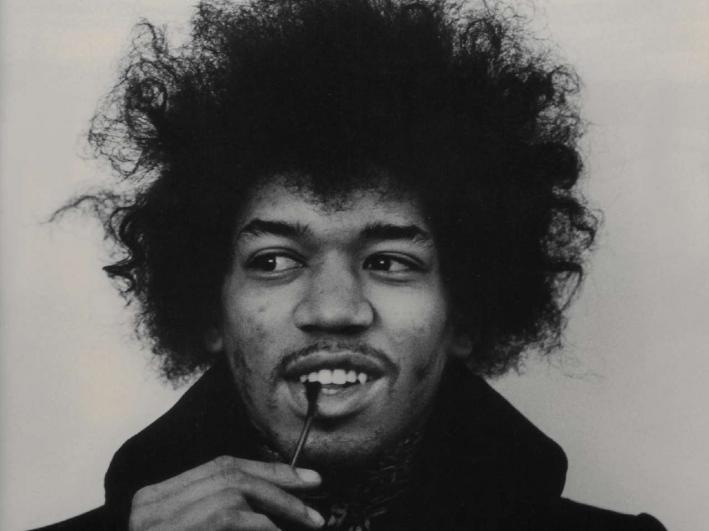 For Black History Month 2013, The Current is spotlighting a different legendary African-American musician each week. This week, we're featuring one of rock's enduring icons, the legendary guitarist Jimi Hendrix. Tune in to hear tracks from his catalog throughout the week, and visit to the website for more features about his career.
In so many ways, Jimi Hendrix is the archetypal rock legend, the incendiary and tragically short arc of his career etched in stone and enshrined for generations to come. Some may question whether this grandiose mythology is deserved, but even a cursory listen to any of the man's countless classics confirms that he was indeed a larger-than-life figure, a consummate frontman and, of course, a guitar virtuoso par excellence.
Born Johnny Allen Hendrix in Seattle in 1942, the man who would later be deified as rock's greatest guitarist had a turbulent childhood marked by frequent moves, emotional and perhaps physical abuse, and the death of his mother when he was just 15. It was at that same age that Hendrix began teaching himself to play a $5 acoustic guitar, graduating to an electric one a year later. After a stint in the army, Hendrix began cutting his teeth—literally, since this is when he began learning to play with his mouth—on the segregated South's African-American touring circuit before playing back-up for stars like The isley Brothers and Little Richard.
It was in 1966, shortly after striking out on his own with the short-lived band Jimmy James and the Blue Flames, that he was discovered by Linda Keith, Keith Richards' girlfriend, and summarily whisked away to London. There, he formed a new band, The Jimi Hendrix Experience, and rapidly became UK psych-rock royalty. The band debuted in May 1967 with the landmark Are You Experienced, whose opener "Purple Haze" remains one of the most stunning encapsulations of Hendrix's genius and surely one of the most earth-shatteringly potent rock debuts ever. Hendrix's big break in the US came just a month later with his performance at the Monterey Pop Festival, where he famously concluded his set by burning and smashing his guitar. That winter, he & his band rushed out their sophomore release, Axis: Bold as Love, which, thanks to extensive studio trickery, pushed Hendrix's sound in new, even more psychedelic directions.
Hendrix's next album (and his last with the Experience) would be fall 1968's Electric Ladyland, a double-LP magnum opus that he labored over extensively in the studio, recording dozens of takes and, in close collaboration with his preferred engineer Eddie Kramer, purportedly attempting hundreds of mixes of some tracks before he was satisfied. This assiduous attention to detail paid off, with the album topping the charts for weeks and securing Hendrix's legendary status.
The Jimi Hendrix Experience would dissolve shortly before Hendrix's most famous gig, his legendary closing set at Woodstock in August of 1969. The band he slapped together for that performance was short-lived, but by the end of the year he'd assembled a new outfit, the all-African-American Band of Gypsys, whose ferocious and funky blues-rock would be captured forever on the band's self-titled album. Culled from recordings of four New Years' shows at the Fillmore East and released in spring of 1970, it was the only official live album and the last album of any kind that Hendrix would release during his lifetime.
Hendrix's drug-related death on September 18, 1970 sealed his iconic status even as it cut short an astonishingly promising career on the cusp of a new decade and era. But the music he left behind not only affirms the linchpins of his legend—his otherworldly guitar chops and fearsome, cataclysmic live presence—but also reveals further dimensions of his genius: his innate and prophetic understanding of the studio-as-instrument, the way his guitar playing's uncanny rhythmic tautness hearkened to his R&B forebears even as it foretold funk. True to his psychedelic vision, Hendrix crafted music that contains entire worlds. Listening to it is an experience that remains vital and dynamic to this day.